毛猴 Hairy Monkey
Language:中文 pin yin English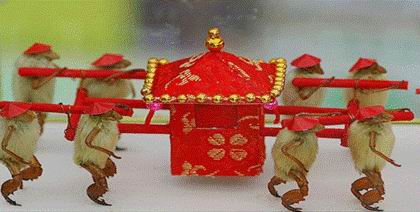 What are the animals in the picture?
很像猴子对吧。其实它们不是真的猴子,而是老北京一种特别的民间工艺品——毛猴。
They look like monkeys, don't they? In fact they are not real monkeys but is a kind of traditional folk artifact of old Beijing called hairy monkeys.
你知道吗?毛猴全身都是宝,因为它是用中药做的。毛猴的腿和胳膊是用蝉蜕的四肢做的,身体是用一种名叫辛夷的中药做的,头是用蝉蜕的头做的。有时候,毛猴会戴一顶帽子,像上面这张图里的那样,这顶帽子也是一种中药,叫木通。把这几部分粘起来的东西叫白芨,也是一种中药。有人可能要问了,为什么毛猴和中药有这么多联系呢?看了下面的故事,你可能就明白了。
Hairy monkey is a combination of treasures, for it is made of several traditional Chinese medicines. Its legs and arms are made of limbs of cicada slough, its body made of lily magnolia, and its head of the head of the cicada slough. Sometimes, the hairy monkey will have a hat on, just like that shown in the picture above. The hat is also a kind of traditional Chinese medicine called akebia stem. What links all the parts of a hairy monkey together is also another kind of traditional Chinese medicine called bletilla. You might ask why the hairy monkey has so much to do with traditional Chinese medicine. The following story will probably help you to understand the reason.
清朝的时候,有一个药店,店里配药的小伙计常常挨老板的骂,他怕丢了饭碗,只好忍气吞声。一天晚上,他又被老板骂了,心里很难受,就开始摆弄药店里的药材。突然,他发现蝉蜕的样子很特别,很像人的样子。于是,他用辛夷做人的躯干,用蝉蜕的头和四肢做人的脑袋和四肢,最后,再用白芨把这几样东西粘在一块。粘完以后,又觉得它人不像人,猴不像猴的。再仔细一看,又觉得这形象特别像药店老板。他大笑起来,心想总算出了一口气,也就不觉得难受了。后来,这玩艺流传到社会上,慢慢就演变成了人们喜爱的工艺品。
Back in the Qing Dynasty, a drug store apprentice was always scolded by his boss. He had to bear the insult for fear of losing the job. One night, he was rebuked again by the boss and felt quite upset, so he started to meddle with the medicinal materials in the store. All of a sudden, he found the cicada slough look very special and resembled a human being. He made the body of the man with the lily magnolia and his head and limbs with the cicada slough. Then he stuck them together with bletilla. After he finished, the thing looked like neither a man nor a monkey. Observed closer, it resembled his boss very much. The apprentice burst into laughter and felt his grievance was redressed. Afterwards, the skill spread to the society and hairy monkey gradually became a popular artifact.
后来,人们制作的毛猴形象越来越丰富,主要是让它模拟人的活动。通过各种动作,表现古时人们生活的状态和民俗文化。看看下面 的毛猴工艺品,你能猜出它们在干什么呢?
With the passing of time, diversified actions of hairy monkeys have been created to imitate human activities. People's life and folk customs in ancient times are reflected through these little monkeys. Have a look at the following picture. Can you guess what they are doing?