光棍节你是怎么过的?How Did You Spend Singles' Day?
Language:中文 pin yin English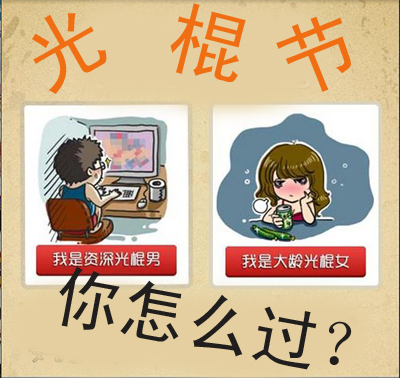 2011年11月11日被人们称为世纪光棍节,因为有六个1,每一百年才有一次。阿拉伯数字1看起来就像一根光滑的棍子,而在汉语中,"光棍"一词指单身的人,这就是"11•11"光棍节的来历。光棍原来特指男性,现在则比较广泛,单身男女都称光棍。
November 11th, 2011 is regarded as the most special Singles' Day. Because this date contains six "1's," it occurs only once in a hundred years. The Arabic number "1" looks very much like a smooth stick and in Chinese, "光棍(guānggùn) (literally means smooth stick)" refers to bachelors, that's why November 11th has come to be called Singles' Day. Originally, "光棍" referred to men particularly, but later people used the word to refer to both men and women.

光棍节是流传于年轻人之间的一个娱乐性的节日,庆祝自己仍然是单身。这个节日开始于校园,通过网络等媒介的传播,逐渐形成了光棍节文化。不过,造成光棍现象的原因却不尽相同。有很多人因为工作太忙,没有时间谈恋爱,或者因为社交圈太小,而没有什么认识异性的机会,成为剩男剩女。还有一些人收入高、工作忙、有情趣,但是他们自愿单身,这也是他们的生活态度。
Singles' Day is popular among Chinese young people to celebrate their single life. This unofficial holiday originated from universities, but later, by means of the Internet it has gradually formed its own culture. There are different reasons for young people to remain single. Some people are busy with their job and have no time to maintain a relationship, while others' social circle is very limited, making it difficult for them to get to know new people of the opposite sex. Therefore, they become "leftovers," as it were. There are also people who have a good job and a high salary, but they choose to remain single in order to enjoy a better life.
单身男女都是怎么过光棍节的呢?高校的学生以单身为傲,庆祝光棍节主要的活动就是聚餐,并且是AA制,吃完饭再去KTV唱"单身情歌"。有人会在光棍节这天鼓起勇气向自己喜欢的人表白,结束单身。对那些刚刚分手,突然变成光棍的人来说,这一天会更痛苦。为了逃避这个节日,有的人故意加班,想通过繁忙的工作忘记自己的痛苦。还有一些人正好相反。他们请假去旅行,不仅能避免看见一些同事庆祝光棍节,还能欣赏到各地美景。
Single people celebrate this holiday in different ways. College students pride themselves on being single. Often, they will have dinner with their single friends and then go to a karaoke bar. Some may muster up courage and make their feelings known to the one they like, hoping to put an end to their single life. But to those who have just ended a relationship, it is a day of pain. To avoid heartbreak some people may choose to work overtime to forget their pain. While others may ask for a leave of absence and take a trip outside to enjoy beautiful scenery, rather than watching others celebrate the holiday.
Valerie
Replied on: 11-12-01 09:56
不是还叫"神棍节"吗?
嗯,好像看网上也有这么说的:)