"中国狼爸"把三个孩子"打"进北大"The Wolf Father in China"
Language:中文 pin yin English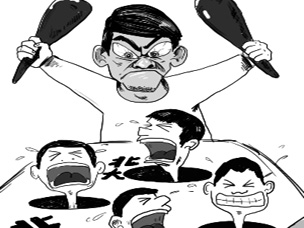 继"虎妈"受到关注之后,日前,"中国狼爸"萧百佑抵达上海宣传他的新书《所以,北大兄妹》,吸引了众多家长及教育界人士。
Some time ago there was a heated discussion on the Internet about a strict Asian American mother who had brought up her two daughters with stern methods. Recently, a strict father named Xiao Baiyou showed up in Shanghai to promote his new book So, My Kids Go to Peking University. Nicknamed "The Chinese wolf father", he has attracted the attention of many parents and educators.
子不教,父之过。萧百佑牢牢记住了这句古话,他的口号就是"三天一顿打,孩子进北大。"只要孩子的日常行为或学习成绩不符合他的要求,就会遭到严厉的体罚。他家里常备藤条和鸡毛掸子,让孩子从小背《三字经》、《弟子规》,背不上来就要挨揍,必须背出来才能上床睡觉。在家里,孩子不准看电视,不准自由上网,不准随意开空调。他说,孩子是民,家长是主,打是一种文化。目前,最让"狼爸"萧百佑骄傲的莫过于他的四个孩子中三个都考进了北京大学。
Xiao Baiyou keeps firmly in mind the ancient Chinese principle that a child's mistakes should be blamed on his father's failure to teach him. Therefore, his personal motto for raising children is — "give the kids a beating, so they can go to Peking University". When his own children were young, if they failed to meet his demands in their study and daily behaviors, he would give them severe physical punishment. He prepared canes and feather dusters in the house, with which he beat the children when they failed to recite Three-character Scripture and Pupil Rule (two Chinese classics), which they had to recite fluently before they went to bed. He forbade them the Internet and television, and they could not turn on the air conditioner without his permission. He holds that children should obey their parents unconditionally and beating children is quite natural and reasonable. As a father, nothing has made him more proud than the fact that three of his four children have been admitted into Peking University, one of China's most esteemed universities.
"狼爸"的教育方式引起了许多人的质疑。有人认为这是一种"奴性"教育,很容易使孩子丧失自己的独立人格,所以根本不应该提倡。但也有人认为这种教育很成功。据了解,目前全国各地已经有30多个孩子被送到他家,利用寒暑假接受"狼爸式"教育。
Many people question his educational method. Some regard it as "slavish", depriving children of their individuality and independent thinking and therefore should not be advocated. But there are also others who support him. It is said that more than 30 children have been sent to him to be disciplined with his self-created educational methods during summer and winter vacations.