一起去香山看红叶吧 Red Leaves of the Fragrant Hill
Language:中文 pin yin English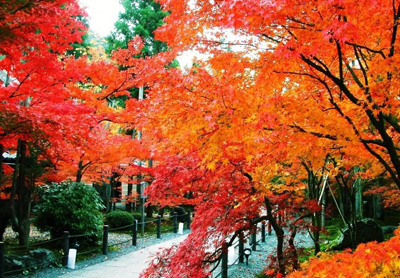 如果你想欣赏北京的秋景,闲暇时去香山看红叶是一个非常不错的选择。
If you are looking to enjoy autumn scenery in Beijing, it is highly recommended that you see the red leaves of Fragrant Hill.
香山,清朝时又叫静宜园,位于北京市海淀区西郊,距市区20公里,面积160公顷,有黄栌树9400多棵,是著名的赏红叶胜地。
Fragrant Hill, situated in the western suburbs of Haidian District, was called Jingyiyuan in the Qing Dynasty. It is twenty kilometers from the city proper, covering an area of 160 hectares. It is a perfect place for people to see crimson leaves because there are over 9,400 smoke trees there.
香山红叶的历史悠久,早在金代就有诗句赞赏香山的红叶。每到秋天,尤其是霜降过后,漫山遍野的红叶,红得像火,极其壮美。由于树种、种植位置、温度的不同,红叶又呈现出不同程度的红,深红、鲜红、粉红、桃红……这些红色中夹杂着松柏的翠绿和银杏树的金黄,站在山顶向下望去,层次分明,色彩斑斓,真是美不胜收。
The red leaves of Fragrant Hill have a very long history. Early in the Jin Dynasty there were poems in praise of them. Every autumn the leaves on the smoke trees become aflame with a splendid red color and shine with magnificent beauty. Because smoke tree species may differ, along with the temperature relative to their planting position the leaves take on different colors such as deep red, bright red, pink, and cherry-red, etc. Mingled in this blaze of red there is also the jade-green of pine and cypress trees, as well as the golden color of gingko trees. Looking down from the top of the mountain, one can have a breath taking view of many layers of brilliant colors.
每年的10月中旬到11月初是香山红叶的最佳观赏期。所以每年这个时候,都有很多游客来这里观赏红叶。周末时,如果你闲来无事,不妨约上几位好友,爬一爬香山,欣赏一下"漫山红遍,层林尽染"的红叶,领略一下北京秋季独特的美!
The best season for enjoying the red leaves is from mid October to early November, when tourists are streaming and the leaves are in riotous colors. If you're free on weekends, you can hike to Fragrant Hill and enjoy the red leaves with your friends, feasting your eyes on the distinctive beauty of autumn in Beijing.