花甲背包客的幸福生活 The Happy Old Backpackers
Language:中文 pin yin English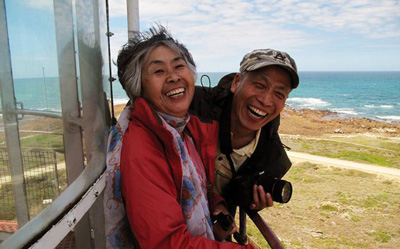 "卖掉房子,我们去旅行。"这句话是一对六十多岁的老夫妇说的。从2008年开始至今,他们自助游览了欧洲、北美、南美等数十个国家。
An elderly couple in their 60s sold their house in order to travel around the world. Since 2008 they have been to more than ten countries in Europe, North America and South America.
和大多数老年人不同,这对老夫妇没有选择在家悠闲享受退休生活,而是卖掉房子去旅行。这让很多人都不解,但是他们认为,以前为了工作,从来没有好好地享受生活,享受人生。而环球旅游,却让他们重新找到了生活的真谛,开拓了眼界。很多时候,他们都觉得仿佛又回到了年轻时,感觉很奇妙。
Unlike most retired people, the elderly couple chose not to stay at home and enjoy a leisurely life, but to sell their house and go on a journey. They said that because of work they had been too busy, and did not have the chance to enjoy life, while traveling around the world has broadened their horizon and provided them with a new vision of life. In their journey they experienced a remarkable feeling, as if they were young again.
开始时,他们还担心语言问题会成为旅行路上的拦路虎。后来,他们发现有时候连比带划不但解决了沟通问题,还能在买东西时和别人划价呢。为了省钱,他们随身都背着一口锅,自己做饭吃。一方生病了,另一方就细心照料。在野外,他们用树枝烤番薯,欣赏漫天繁星的夜景……这些苦乐酸甜和每天的不同经历让这对生活了大半辈子的老夫妇又开始重新了解对方,好像重新恋爱了一样。每天他们都经历着从未感受过的新奇,生活也一下子变得精彩了很多。
At the beginning, they were afraid that language might be a big barrier during their journey. However, later they found out that by using gestures they could not only communicate with foreigners easily, but also gained themselves an advantage when bargaining for items. They took a pan with them so they could cook for themselves in order to save some money. If one of them fell ill, the other took very good care of him/her. They even made fire with small branches to roast sweet potatoes and watched stars at night in the wild. All of these bitter-sweet experiences in their travels have helped them come to know each other all over again, as if they were falling in love for a second time. Life had suddenly become splendid as they experienced the novelties of each day together.
这对老夫妇的故事让人想起钱钟书老先生在《围城》中说的话:"认识一个人最好的方式就是和他(她)去旅行。在旅行中,左手牵右手,把臂同游,共同待人赏物。"仔细想想,这才是惬意幸福的生活。
The story of the elderly couple reminds us of what Qian Zhongshu wrote in his novel Fortress Besieged — the best way to get to know someone is to travel with him/her. During your travels, you can enjoy different scenery, hold each other's hand and together, interact with people from different walks of life. Think about it, that is a beautiful life.
水中央恣意
Replied on: 11-12-09 14:49
支持,这才是生活,这才叫人生~~
严重同意!
YXC
Replied on: 11-12-09 21:42
真羡慕他们,希望我也有那么一天。。。
会有那么一天的,哈哈:)