你微信,米聊了吗?Have You "Twittered" or Used "Mi Talk Messenger"?
Language:中文 pin yin English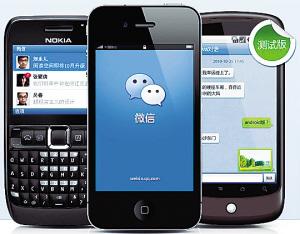 现在,走在街上,你会发现有很多人对着手机讲话。千万不要奇怪,他们很可能在"微信"或者"米聊"。这是目前受人推崇的两种交友方式,非常时尚前卫。
Nowadays, when you are walking down the street, you may find many people talking to their cell phones, No need to feel awkward, they may be using "twitter" or "Mi Talk Messenger". These two social networking methods are very fashionable and advanced and are praised highly by people.
微信和米聊都是新一代手机即时通讯工具。它们都支持实时的语音对讲、视频,发送信息、图片,更新微博等。很多人把它们称为手机"语音留言箱"或"对讲机",但是比传统方式更实惠快捷。
Twitter and Mi Talk Messenger are new generation cell phone instant messenger applications. They support real-time voice conversation; video, message sending, pictures updates and more. They have been called "voice mail box" or "interphone" by many people, but they are more economical and faster than traditional methods.
"喂喂,这个周末咱们一起逛街吧!""好啊……"小李和他女朋友都是微信的粉丝,他们用了快有大半年了。"微信比打电话和发短信都便宜,而且没有距离限制,我出差在外地还能省了漫游费用……"小李一边说着,一边还演示了起来。
"Let's go shopping this weekend!" "OK…." Xiao Li and his girlfriend are fans of twitter which they have used for half a year. "Twitter is cheaper than making a call and sending short messages. And because there is no limit of distance, I can save roaming fees when I go on business trips to other places……." says Xiao Li while demonstrating.
"非常方便,按住屏幕下方的对讲键讲话,讲完以后直接就发送了,省去了打字的麻烦,很适合我们中老年人……"58岁的赵先生一边说一边给我们演示,看来他也是米聊的拥护者。
"It is very convenient. I speak while pressing the intercom button at the bottom of the screen and then send it out directly when I finish. It is suitable for our seniors because it can save the trouble of typing" says fifty-eight-year-old Mr. Zhao while showing us how it works. . It seems as if he is also a fan of Mi Talk Messenger.
怎么样,这么时尚的新事物,听了这里的介绍,你是不是也要尝试一下呢?
So, after hearing these recommendations,would you like to have a try at this new fashionableproduct ?