"网购"年夜饭成时尚 Ordering reunion dinner on New Year's Eve on line is fashionable
Language:中文 pin yin English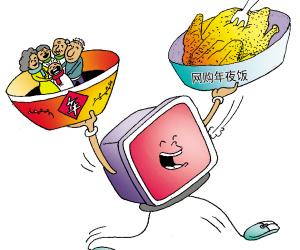 春节气息越来越浓,人们又开始为准备年夜饭动脑筋了。如今,随着数字化时代的到来,人们只需要在家轻轻一点鼠标,就能将想要的东西"一网淘尽",年夜饭也不例外。而且,现在网购年夜饭越来越火,已经成了一种时尚。
As the Spring Festival approaches, people begin to think about what they should prepare for a special reunion dinner on New Year's Eve. Living in a digital age, people can buy whatever they want on the Internet with a click of the mouse at home. For online shoppers reunion dinner on New Year's Eve is no exception. Nowadays, ordering reunion dinner on the Internet has become the latest trend.
李阳是外企员工,她说:"平时我都很忙,但今年我一定要为家人准备一顿丰盛的年夜饭。虽然我对做饭并不在行,可是我一点也不担心。现在我天天逛"淘宝网",订购各个地方的特产,当然多半是半成品,稍微加工一下就是一道菜。这样各地的美食都能尝到,还能享受折扣,一举多得啊。"
Li Yang, who works in a foreign invested enterprise, says: "I'm very busy with my work, but I have decided to prepare a good dinner for my family on New Year's Eve. Although I'm not good at cooking, I don't have to worry about it because I can buy specialty foods from different places in China on taobao.com. I buy online partially prepared and ready-to-cook dishes, so I can cook them later all by myself. That way we can taste food from all over the country and get special discounts in addition."
目前,国内不少大型网购网站已经开始向消费者推出各种"网购"畅销食品,如四川美食、进口蛋糕等都成为了炙手可热的商品。
At present, several on-line shopping websites have provided many popular foods from all over the country for people to choose from, such as Sichuan food and imported cakes, etc.