你有"年关焦虑症"吗? Do you have "year end anxiety"?
Language:中文 pin yin English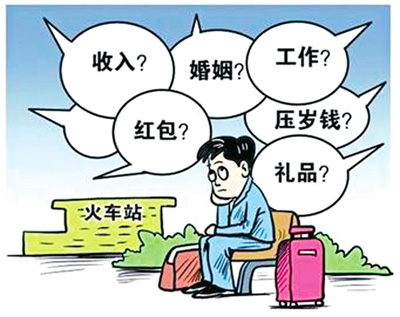 春节将至,节日的气氛越来越浓,而"年关焦虑症"也不请自来了。由于工作和生活的压力,很多人会产生出一种莫名的自责和恐慌:这个年怎么过?如何轻松迎接一个喜庆轻松的新年?这些自然也成了人们最关心的话题。
The Spring Festival is coming and the festival atmosphere is much stronger, so is the "year end anxiety". Due to the pressure of work and life, many people have indescribable self-accusation and anxiety. How to spend the new year? How to welcome a happy and relaxed New Year? These become the topics that concern peoples the most.
在一家文化传播公司上班的小张说:"我还在犹豫要不要回家过年。家里亲戚多,既要孝敬长辈,又要给小孩子准备礼物、压岁钱,还有父母催婚,我想想就觉得害怕。"
Xiao Zhang who works in a cultural communication company says, "I still hesitate whether to go home or not. There are many relatives in my family. I not only have to give presents to elders, but also give presents and lucky money to the kids. And my parents will urge me to get married. The very thought of it frightens me. "
小吴在一家私营企业干销售,现在离年初定下的销售目标还有一定差距。他说:"一想到今年的销售任务,真不想这么快就过年。要是完不成任务,我年底上哪儿拿奖金去啊!"
Xiao Wu, a salesman in a private company, who has still not reached her sales target made at the beginning of the year says, "When I think about this year's sales target, I really do not want to celebrate New Year so soon. If I don't complete my assignment, where can I get the year end bonus? "
如何应对"年关焦虑症"呢?心理专家建议大家不要给自己太大压力。其实,年关也是一个总结和展望的好机会。总结去年的不足,并在新的一年努力奋斗,那么来年一定会更上一层楼!
What can one do in response to "year end anxiety?" psychologists suggest that people should not put too much pressure on themselves. In fact, the end of the year is a good opportunity for summary and outlook. By summarizing last year's deficiencies and striving for the New Year, you will be sure to make great progress!