反向探亲——悄然兴起的新年 Visiting relatives opposite to the traditional custom----a new emerging new year's custom
Language:中文 pin yin English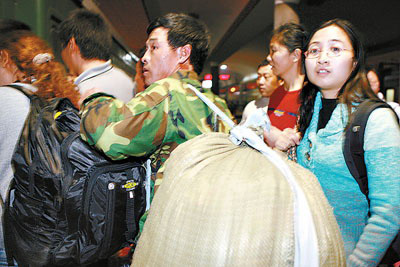 春节是中国人的传统节日。按照习俗,在外的儿女们都要在除夕之前赶回家乡,与父母亲人团圆。但买票难、车难坐、假期短等原因常常阻碍了异乡儿女们回家的脚步。在这种情况下,"反向探亲"这一新年俗正悄然兴起,善解人意的父母们开始选择来儿女家过年。
The Spring Festival is a traditional Chinese holiday. According to the custom, children who live and work in other cities and provinces will return home before the lunar New Year's Eve and reunite with their parents and relatives. However, for several reasons, many are hindered from returning. For example, the difficulty of buying tickets, packed trains and short holidays. Under these circumstances, there is a new custom of visiting relatives emerging, opposite to the traditional one. Some considerate parents now choose to celebrate the lunar New Year in their children's houses.
在北京一家公司工作7年的刘刚对春节返乡难深有体会。往年,由于临近春节的火车票难买,他总要花上千元购买全价机票赶回老家湖南长沙。几天之后,又要匆匆回到北京开始工作。而今年,他不用再为回家过年而烦恼了,因为他的父母决定"北上"来北京过年。
Liu Gang who has been working in a company in Beijing for seven years has deep feeling about the difficulty in returning to his hometown. In former years, because of the difficulty in buying train tickets for the date of the approaching Spring Festival, he always bought whole-price plane tickets to his hometown—Changsha in Hunan Province which cost him thousands of Yuan. Several days later, he would then have to rashly return to Beijing and begin to work. But this year, he didn't bother to go home during the Spring Festival, because his parents decided to go to Beijing and spend the New Year with him.
相比之下,父母来北京买票就容易得多,也经济实惠得多。由于父母均已退休,时间上很自由。既可以避开出行高峰,也可以多享受与子女团聚的时光。北京是个旅游城市,父母来这里可以游览许多名胜古迹。刘刚打算带父母看看去天安门看升旗,到地坛公园逛逛庙会,品尝一下老北京的年味,让他们过一个别样的春节。
In Comparison, it's easier and more economical for parents to buy tickets to Beijing. Since they have retired and have free time, they can avoid the peak time to travel and have more time to stay with their children. Beijing is a tourist city in which parents can visit many places of historical interest. Liu Gang decided to take his parents to Tiananmen Square to watch the flag-raising and go to temple fair in the Temple of Earth, to have a taste of the old Beijing flavor of festivities which let them experience Spring Festival in a different way.
这种既能和家人团圆又不用为买不到车票而发愁的"反向探亲",也在逐步改变外乡人传统的返乡过年的习惯。其实,过年最大的意义就是能与亲人聚聚。只要一家人能够顺利团聚,共享天伦,在哪里过年都不都一样吗?
This way, not only can family members reunite, but also don't have to be anxious about buying train tickets. It is also gradually changing the traditional custom of out-of-towners returning to their hometown for the Spring Festival. In fact, the biggest importance of the lunar New Year is to reunite with families. So no matter where you celebrate it, as long as you are with family, isn't it all the same?