"酷抠族"受当下中国年轻人追捧

"Cool savers" are popular among Chinese youth
Language:中文 pin yin English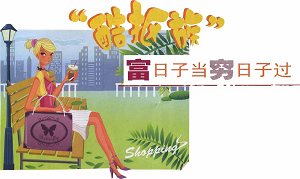 谁说当下中国人铺张浪费成风?谁说中国当代年轻人喜欢当 "月光族"?如今,"酷抠族"已经成了很多中产阶级追求的时髦生活方式。
Who said it common for Chinese people to live a life of extravagance and waste? Who said Chinese young people like to spend their whole paychecks? Nowadays, "cool savers" live fashionable lifestyles pursued by the middle class.
"酷抠族"是指拥有高学历、高收入但追求简朴生活方式的一群人。入门级"酷抠族"的行为准则是:"能坐公共交通就不开私家车,能步行就不坐车;一张餐巾纸撕成两半用;剩菜一般不放在微波炉加热,而是放进电饭煲里,趁煮饭时'蹭'一点儿热;不用洗衣机甩干衣服,而是让衣服自然晾干;多用飞信、电子邮件,少打手机……"也许这些做法会被人耻笑,大呼这也太小气了!不过他们依然我行我素,将节俭、低碳进行到底。
"Cool savers" refers to a group of people who have high academic qualifications and high salaries but seek simple lifestyles. Their code of conduct involves taking public transportation and not private cars; not taking cars if one can walk there; tearing napkins into halves to double their use; heating leftovers in electric cookers and not in microwave ovens; air-drying clothes rather than using driers; using more mobile apps like Fetion and emails rather than calling via cell; and much more. Perhaps these behaviors will be mocked by others and are labeled as stingy! But they persist their old ways and carry frugality and low-carbon lifestyles through to the end.
"酷抠族"不是"葛朗台",也不是守财奴,他们大多收入不菲,之所以精打细算地生活,是为了追求更简单、健康的生活方式,将中华民族节俭的传统美德和现代的时尚思维结合,这种简单的生活方式让他们更加专注于自己喜欢的人,喜欢的事,是一种健康的生活方式。
"Cool savers" are not Balzac's Eugenie Grandet, neither are they misers. Most of them have good salaries. The reason they have strict budgets is that they pursue a simpler and healthier lifestyle. In combination of the traditional Chinese virtues of frugality and modern fashionable thinking, this kind of simple lifestyle is a healthy one that makes them more concentrated on the people and things they like.
图片来源:http://blog.sunry.cc/u/14322/archives/2008/5767.html