为了蓝天,跟鞭炮说再见

For the sake of blue sky, say goodbye to fireworks
Language:中文 pin yin English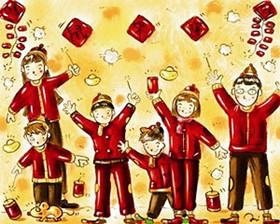 中国过春节有放鞭炮的习俗。在新的一年到来的时候,家家户户开门的第一件事就是燃放鞭炮,用噼噼啪啪的鞭炮声除旧迎新。传说古时候人们放鞭炮是为了吓跑一个叫"夕"怪物,现在一般认为放鞭炮可以创造一种喜庆气氛,是节日的一种重要娱乐活动。不止春节,比如新店开业,新婚庆典,人们都喜欢放鞭炮,场面非常热闹。
In China, there is a tradition of setting off fireworks during Spring Festival. When new year comes, the first thing each family does is light fireworks, the popping sounds of which clean away the old of the past year and usher in the new. According to legend, ancient people set off fireworks was to scare away a monster known as "夕." Nowadays, people believe that lighting fireworks can create a joyous atmosphere, which is an important part of the holidays. People like to set off fireworks not only during Spring Festival, but also when a new store opens or after a wedding ceremony. The occasion is very exciting.
可是,2012年中国很多大城市出现了严重的空气污染,雾霾给人们的健康和生活带来了很多不便。为了让自己爱的人生活在干净的环境中,2013年春节人们倡导少放鞭炮,甚至干脆不放,用其他方式营造春节欢乐的氛围。经过各方呼吁,大多数中国人都响应了这个号召,很多城市鞭炮销量减少了四成,燃放的人数也明显减少,空气更清新了,燃放鞭炮后产生的垃圾也少了许多。中国人在努力跟鞭炮说再见,跟蓝天说欢迎常来。
However, in 2012, many big cities in China had serous air pollution affecting people's health and wellbeing. In order to let their loved ones live in a clean environment, many people called for setting off fewer or even no fireworks for the 2013 Spring Festival, using different approaches to create the same joyful atmosphere. Through the vocal efforts of many groups, most Chinese people responded, and the volume of fireworks sales in many cities fell by 40%, and the number of people who set off fireworks reduced visibly. The air was better, and waste generated by fireworks also decreased. Chinese people are working hard to say goodbye to fireworks and welcome blue sky.
图片来源:http://bz.ccxtd.com.cn/shtml/szbz6/20110213/27541.shtml