勤俭节约归来

The return of thrift and saving
Language:中文 pin yin English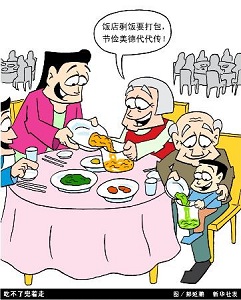 剩饭打包是不是显得有些小气?用过一面的办公用纸重复使用,太麻烦了吧?上班不开车改坐公共汽车,是不是很没面子?其实不是的,因为这些都是勤俭节约的最好表现。
Is it stingy to wrap up leftovers? Is it too inconvenient to reuse office paper that has only been used on one side? Is it a loss of face to take the bus instead of drive a car? Of course it isn't. These are the best representations of thrift and saving.
"勤俭节约"是中华民族的传统美德,意思是工作勤劳,生活节俭,不允许自己或别人有不必要的花费。在生活中,可以体现为广大老百姓节约用水、用电,珍惜他人的劳动成果,不随便攀比。勤俭节约不仅仅是在省钱,也体现了一个民族社会道德和文明程度。
A Chinese traditional virtue, "thrift and saving" is to work hard, live economically, and not allow unnecessary expenditures by oneself or others. In daily life, it is reflected by common people who save water and electricity, cherish the fruits of others' labor, and do not make unrealistic comparisons. Thrift and saving not only reduces money spent – also reflects the degree to which a nation is civilized and has social morals.
近些年,随着中国经济的发展,开始出现一些铺张浪费的现象,如浪费水电、大量剩饭剩菜被倒掉等等,这些都是不利于中国社会的可持续发展。因此,中国新一届政府大力倡导重新拾起勤俭节约的好品德,控制公务开支,少喝"茅台"等高档酒,减少公务宴请,也号召老百姓在力所能及的范围内节约,让中国能够更加健康的发展。
In recent years, alongside the development of China's economy, extravagance and waste have also appeared, such as wasting water and electricity and throwing away large amounts of leftovers, all of which are harmful to the sustainable development of Chinese society. Therefore, the new Chinese leaders are strongly advocating the virtue of thrift and saving by controlling official expenditures, drinking less high-end liquor like the Maotai brand, cutting down on official dinners and banquets, and calling for common people to practice thrift within their own capacities, all so that China will develop more healthily.
因此,在饭店剩饭打包已经不丢人了。
Thus, it is not a shame to pack up leftovers in a restaurant.
图片来源:
http://blog.163.com/pyghw6753@126/blog/static/86641901201152294235502/