微博传递爱的信息

Weibo – delivering the message of love
Language:中文 pin yin English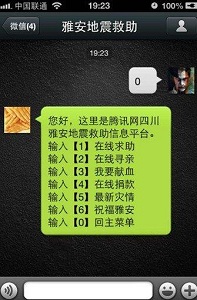 2009年8月,中国门户网站新浪网第一个推出了微博,网民们迅速接受了这一新鲜事物,微博在中国开始大为流行,他们通过微博发布个人的动态,转发各种有意思的帖子,结识新朋友,形成了一个微博的世界。2011年10月,中国微博用户总数达到2.498亿。
In August 2009, the Chinese web portal Sina.com became the first to introduce weibo (micro-blogging). Netizens soon welcomed this novelty and weibo became greatly popular in China. People used weibo to announce their personal updates, resend interesting posts, and get to know new friends, forming a world of weibo. By October 2011, the total number of weibo users had reached 249.8 million.
2013年4月20日,中国四川发生7级地震,引起了中国社会乃至世界的极大关注。各大新闻机构和商业网站都在第一时间通过微博发布并且更新震情,对于很多无法看电视的人来说,微博成为了他们第一时间掌握最新灾区情况的工具,有关地震的话题,也成为热门话题,吸引了众多网友的讨论。还有不少人通过微博联系上了灾区的亲朋好友,一句报平安的微博,足以让人安心。很多人通过微博传递着灾区的需求,让更多想贡献自己力量的人能够找到帮忙的途径。人们正在通过微博,传递着爱的信息,延伸着爱的长度。
On April 20, 2013, an earthquake of magnitude 7 took place in Sichuan province, attracting great attention in China and around the world. Each large news agency and business website released and updated information on the earthquake through weibo in real time. For people who did not have the access to television, weibo became a tool to know the latest situation in the disaster area. Earthquake-related topics became wildly popular, attracting discussion among many users. Many people got in contact with their relatives and friends in the disaster area through weibo. A single weibo message to report one's safety brought great relief to others, and many people used weibo to announce what people in the disaster area needed, enabling those who wished to help to contribute their strength. People delivered messages of love, making it reach new heights through weibo.
图片来源:http://news.mydrivers.com/1/261/261182.htm