限塑与环保

The ban on free plastic bags and environmental protection
Language:中文 pin yin English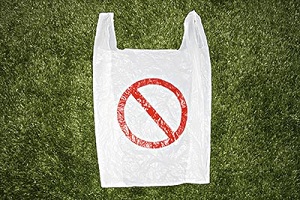 以前在中国的超市、菜市场以及各种商场杂货店,商家会把商品放入塑料袋中,免费给顾客使用,方便他们携带商品。久而久之,家家户户就攒了很多塑料袋。有的用来装杂物,有的用来装垃圾,还有的被直接扔掉。处置塑料袋,尤其是超薄塑料袋,非常污染环境:焚烧会产生大量有毒气体,掩埋降解时间又会很长,甚至长达几百年。由于大量使用塑料袋,被丢弃的塑料袋随处可见。被风吹过,又会满天飞,挂到树枝上,十分影响环境美观。
Previously, in China's supermarkets, vegetable markets and various shopping malls and grocery stores, sellers put goods into plastic bags for free to allow customers to take their things home more easily. Before long, each family would accumulate lots of plastic bags, some of which were used for sundry objects or rubbish. Some were even directly thrown away. Disposing of plastic bags pollutes the environment, especially when it comes to super-thin plastic bags. Because they were used in such great quantity, discarded plastic bags could be seen everywhere. When the wind blew, you could see them flying around everywhere and hanging in trees, severely impacting the environment.
鉴于大量使用塑料袋的诸多弊端,2007年12月31日,国务院办公厅下发通知,明确规定:"从2008年6月1日起,在全国范围内禁止生产、销售、使用厚度小于0.025毫米的塑料购物袋";"自2008年6月1日起,在所有超市、商场、集贸市场等商品零售场所实行塑料购物袋有偿使用制度,一律不得免费提供塑料购物袋"。规定限制了不合格塑料袋的生产,并且通过价格调控的方式,让人们逐渐改变一些不环保的使用塑料袋的习惯。如今,限塑令已经实施了5年,很多人习惯了带着布袋购物,废弃的塑料袋明显减少,限塑让中国人的生活更加环保。
Taking into account the damaging impact brought by such widespread use of plastic bags, on December 31, 2007, the General Office of the State Council issued a notice that explicitly stipulated, "From June 1, 2008, the production, sale and use of plastic bags thinner than 0.025 millimeters will be forbidden in the country"; "From June 1, 2008, plastic bags will no longer be free of charge in commodity retail locations, such as supermarkets, shopping malls and markets." The stipulation restricted the production of plastic bags that did not meet the proper requirements, and made people gradually change the habit of using plastic bags which are not environmentally friendly through the approach of price adjustment and control. Today, the ban on free plastic bags has been in place for 5 years and many people have become used to taking cloth bags to go shopping. The number of discarded plastic bags has been obviously reduced and the ban has made Chinese people's lives more environmentally friendly.
图片来源:
http://baike.baidu.com/picview/1662499/1662499/0/d7c9ca3f437b539e7c1e71e9.html#albumindex=0&picindex=0