父母相亲团

Parents arranging marriages for their grown-up children
Language:中文 pin yin English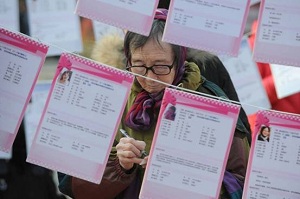 在大城市里的各种相亲会上,总会看到很多白发苍苍的老头老太太的身影。他们可不是来给自己找第二春的,而是代替自己未婚的儿女来参加相亲,他们的目标是儿女的终身幸福。这些老年人参加相亲会,通常会将儿女的情况写清楚,遇到自己心仪的孩子或其父母,就主动上去聊天,觉得合适再留下联系方式,让儿女们互相认识。
In the urban markets used to post marriage personals, it is common to see the white or graying hair of old men and women. They are not looking for spouses, but rather come on behalf of their unmarried children. Their goal is the happiness of their children. These old men and women often clearly write down their children's descriptions, and when they encounter singles or parents they like, they take the initiative to chat with them. If they find the situation suitable, they leave their contact information to help their children get in touch.
老人们这么做也实在是无奈之举。因为大城市的大龄未婚男女通常工作非常忙,没有那么多空闲的时间来参加相亲活动,或者因为太不好意思。老人们也认为,年纪大的人看人的眼光比较准确,能物色到更合适自己孩子的人选。也有的是因为儿女本身比较抵触相亲活动,只好父母先上阵,遇到合适的再逼着儿女见面。虽然原因各有不同,可老人们希望大龄儿女早日成家的急切心情都一样。
Such behavior on behalf of these elderly is totally unavoidable. In large cities, older singles are often very busy with their work; therefore, they do not have much free time to search for blind dates. Or, they may feel embarrassed. Older people think they have more accurate personal insight and that they can pick more suitable spouses for their children. Other singles refuse such activities, meaning their parents take the field themselves and force their children to meet suitable mates. In spite of the various reasons, these elderly hope their children assuage their anxiety by getting married soon.
不过,父母替儿女相亲,只能起到初步的信息收集作用,剩下的事情还要儿女自己主动见面发展,父母即使再着急,也不能越俎代庖。
Of course, parents who come on behalf of their children only play a role in collecting preliminary information. The rest requires the children to take the initiative to meet each other and develop a relationship. Though they are worried, parents cannot overstep their duties.
图片来源:http://news.shm.com.cn/2011-02/09/content_3373967.htm