春节新主张

New ideas on the Spring Festival
Language:中文 pin yin English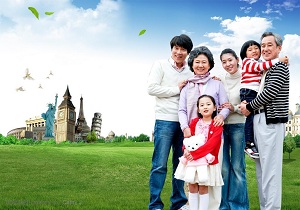 提到春节,那可是中国人最重要的节日,肯定是要举家团圆的。即使身在天涯海角,或者已经身无分文,人们都要想办法与亲人相聚。如果这是你对中国春节的唯一认识,那么,你错了,如今的春节,可以有很多过法。
The Spring Festival is China's most important holiday, and a time marked by family reunions. Even if people are in remote places, or even stone-broke, they will find a way to get together with relatives. But if this is all you know about the Spring Festival, then you have a lot to learn. Nowadays, the Spring Festival is celebrated in a variety of different ways.
1.
父母找孩子过年去。以前过年,异地的孩子们都要回到老家和家人团聚,如今,越来越多的年轻人在外地打拼,春节一个星期的假期如果回老家会浪费很多时间在路上,所以一些父母就去儿女所在的城市看望孩子,顺便感受一下当地的春节气氛。
Nowadays, parents often travel to be reunited with their children. Previously, grown-up children living and working in different places would return to their home towns to get together with their families. Now, an increasing number of young people work far from home. If they return to their home towns for one week holiday, they will waste a lot of time. Thus, some parents now travel to the places where their children live, and celebrate the Spring Festival by experiencing and enjoying the local atmosphere.
2.
春节出去旅游。总是在家里大吃大喝有些单调,一些人选择全家旅游过春节。由于中国的春节在冬天,大部分地区都很冷,像海南、东南亚这些既暖和费用又不高的旅游胜地便成了春节旅游的首选。
Travel during the Spring Festival is also increasingly common. As some think simply eating and drinking at home is a bit monotonous, they choose to travel. Because the Spring Festival occurs in winter, most places are very cold. Some travel destinations like Hainan and Southeast Asia, which are warm and inexpensive, have become prime destinations for travel.
3.
视频拜年。总会有一些在异地的人春节无法回家,但是他们也希望能在这个举家团聚的日子让家人感到自己的祝福,就拍了视频寄给家里,浓浓的感情随着高科技的发展更加深厚。
Another relatively new practice involves sending New Year greetings via video. Some people cannot return to their home towns, but still hope their families to have their blessing on this special day. Therefore, many choose to shoot a video and send it home. The advancement of technology has served to deepen the emotions experienced between family members during this special holiday.
图片来源:
http://www.tooopen.com/html/download/2011621/201106211157134621.html