火爆的高考经济

The booming College Entrance Exam economy
Language:中文 pin yin English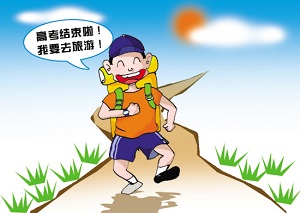 一年一度的高考,牵动着成千上百万学子和家长们的心,也刺激着诸多商家的神经。到了进行高考的六月份,各种跟高考相关的商业活动多起来。
The annual College Entrance Exam affects hundreds of thousands of students and parents, and also stimulates the nerves of many merchants. Indeed, each year in June, when the College Entrance Exam is held, all kinds of business activities related to it multiply in number.
高考房:考场离家远早上起不来怎么办?中午没有地方休息怎么办?早有旅馆为你想好了。每年高考的三天,考点附近的酒店、旅馆就会推出高考钟点房供考生中午休息,而留宿的房价也会悄然上涨。
College Entrance Exam resting rooms: What does one do if one lives far away from the examination site, and cannot wake up in time? What if there is no place to rest at noon? One finds a hotel close by. During the three days of the exam, hotels close to testing sites provide hourly rate hotel rooms to the examinees so that they can have an afternoon rest. At the same time, however, the price of putting up for the night at such hotels also rises quietly.
保健品:高考是个脑力活儿,不能让孩子累在起跑线上,所以,商家打出营养、保健品牌。这些营养保健品是否真的能提高考生的记忆力,轻松大脑?谁也不知道,就像一位考生家长说的,买保健品是家长对孩子爱心的表达,也是一种心理安慰。
Health care products: Taking the College Entrance Exam is mentally taxing work. Some businesses promote health care products that claim to help students avoid being tired at the starting line. Can such products really improve examinees' memory and ability to relax? No one knows. Like the parent of one examinee said, parents buy such products as an expression of love and also as a kind of emotional comfort.
谢师宴:高考莫忘整日对你谆谆教导的恩师,考试过后,酒店会及时推出谢师宴,一个学生或者一个班的学生包下包间,宴请三年高中学习生涯带着他们读书的恩师。
Graduation dinner: It is important not to forget one's teacher after graduation. After the examination, many restaurants will promote teacher appreciation dinners. A student or a class of students will book a dining room to treat their teachers as an expression of gratitude for three years of high school learning.
还有的商家在高考之后推出凭准考证消费打折活动,美容院也有专门为学生打造的美容套餐,旅行社会提供各种旅行路线给考生放松,而考生去大学之前也会大采购一番等等,让炎炎夏日里的经济更加火爆。
Some businesses promote sales, during which examinees can use their admission cards to purchase discounted products after the examination. Beauty salons have personalized hairdressing services for students, and traveling agencies provide all sorts of traveling itineraries specifically designed to help examinees relax. Additionally, many examinees have shopping sprees before entering university, which heats up the economy during the summer months.
图片来源:http://www.nen.com.cn/77971867083735040/20070613/2245001.shtml