翻拍经典很流行

Remaking classics are very popular
Language:中文 pin yin English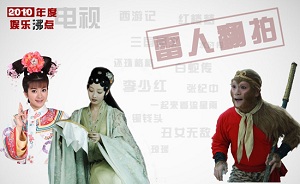 近些年,影视界掀起了翻拍经典影视剧的热潮,一时间,很多深藏在人们记忆中的影视剧重现荧屏,而翻拍的效果,却并不尽如人意,经常惹得观众拍砖。
In recent years, the film and television industry has seen a craze for remaking classic films and television serials. At one time, many shows deeply ingrained in peoples' memories reappeared on screen, but the results were not up to expectations and were criticized by audiences.
翻拍经典本来也有价值的。几十年前的影视剧,因为技术、经费等问题,会存在一定的不足,当今的技术和资金可以弥补这些缺点,不过,翻拍存在很大的风险。首先,翻拍或多或少需要修改剧本,情节上有所改动。故事情节在十几年前很受欢迎,如今未必符合观众的审美要求;其次,翻拍也要更换演员,观众会先入为主地认为原来的演员更好,看到新的演员,总会挑三拣四的不满意;另外,还有观众怀旧的心理作祟,总认为当年的影视剧才是最好的,因为那些看影视剧的时光,是他们无比怀念的青春。
There is value in remaking the classics. Due to problems of technology and cost, shows from dozens of years ago do have certain drawbacks. Modern technology and money can make up for these shortcomings, but remaking them does come with a big risk. First, scripts needs to be modified and plots changed to a greater or lesser extent. Storylines that were popular dozens of years ago may not necessarily satisfy audiences today. Second, the actors won't be the same, and audiences will tend to have the impression that the original players were better. When they see new actors, they are usually not satisfied and get picky. In addition, they are nostalgic and think that shows from previous years were the best, because those were the ones they watched during their youth.
尽管如此,影视界还是热衷于翻拍,也许是那些剧本过于经典且在宣传上有噱头,同时也省时省力。不过总是这样不求创新,观众早晚会罢视的。
Even so, the film and play industry is still fond of remakes. Perhaps these scripts are more than classics and can attract a great deal of attention, as well as save on time and energy. But without innovation, audiences will stop watching sooner or later.
图片来源:http://news.xinmin.cn/rollnews/2010/12/28/8559417.html