早教深入中国社会

Early education becomes popular in Chinese society
Language:中文 pin yin English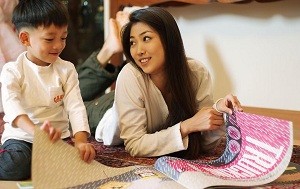 早教是近几年在中国很火的一个词,早教市场上各类课程、网站、教材层出不穷,经济效益相当可观,商家们趋之若鹜,众多望子成龙的父母也极力追捧。
Early education has become a hot term in China in recent years. All kinds of courses, websites and textbooks are endlessly emerging, and the economic benefits are considerable. Merchants are flocking to them and parents who have great ambitions for their kids are also chasing after them.
早教指的是一个人从出生到上小学之前的教育,教育专家认为,婴幼儿时期是孩子神经系统发育最快、各种潜能开发最为关键的时期,应该对其语言、智力、艺术、情感、人格和社会性进行培养。早教提倡兴趣第一,从生活中提取知识教给孩子,让他们对知识产生兴趣。
Early education refers to a person's education from his birth to pre-primary school. Education experts believe that the infant period is the time when the child's nervous system develops the fastest and the most important period for all kinds of potential development that cultivates their language, intelligence, artistic skills, emotions, personality and social skills. Early education advocates interest as a priority, giving kids knowledge from daily life and allowing them to cultivate an interest in knowledge.
现在中国的父母越来越重视孩子的早教,他们愿意花费大量的精力和财力培养孩子,比如2、3岁就让孩子学习英语、画画、钢琴、舞蹈,占用了孩子们大量的游戏时间,导致一些孩子没有上小学就开始厌学,父母们也累得筋疲力尽。健康的早教,应该是通过多种类型和功能的玩具、游戏,让孩子们认识世界,启发他们积极思考、探索问题的能力,而不是填鸭式的教育。父母们理应给孩子一个健康、欢乐的童年.
Now, Chinese parents are paying more and more attention to their kids' early education. They want to spend a lot of energy and money cultivating their kids. For example, when their kids are aged only 2 or 3, parents will make them study English, painting, piano and dancing, which takes up a lot of play time and results in their reluctance to learn before going to primary school. The parents also become exhausted. Healthy early education should let children know the world through the various types and functions of toys and games to inspire their capability to actively think and explore questions. It should not be a form of cramming education. Parents should give their children a healthy and happy childhood.
图片来源:http://children.baike.com/article-133514.html