摆客的"摆"生活 To Be a Part-time Peddler
Language:中文 pin yin English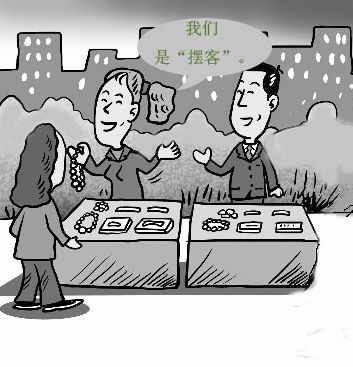 最近,"玩一把新潮,摆一摆小摊"的生活方式在年轻人中兴起,这类人也被称为"摆客一族"。在"摆客中国网"上注册的会员人数与日俱增,主要人群是学生和白领。在北京五道口附近,摆客也俨然成了一道城市风景线。
Currently, a trend of being a part-time peddler after work has become fashionable among Chinese young people. This group of people are called "摆客一族(peddling lovers)". The website (http://www.baike086.com/) is particularly set up for them and the number of registers increases with each passing day. Among them, students and white collar workers account for the main part and they have already formed a unique streetscape in Wudaokou, Beijing.
华灯初上,在五道口华联商厦两侧,摆客们一个个衣着亮丽。小摊上是一排排丰富的物品,甚至还有的"摆客"开着汽车而来。琳琅满目的物品吸引路人驻足,他们也都耐心地推销着自己的商品。吴萌是北京一家外企的职员,她也加入了"摆客"的行列,卖起了耐克

T

恤和女包。她说"我不是为了赚钱。我觉得当'摆客'是不同于工作的另外一种生活,也是我减压的方式,我很迷恋这种成就感。"
When the evening lights are lit, these part-time peddlers appear in gorgeous dresses along the both sides of Hualian Mall in Wudaokou. There are all sorts of commodities in their stalls and some even drive here to peddle. Goods of all and sundry and enthusiasm of the peddlers attract the passengers. They stop and see if there is anything they like. Wu Meng is an employee working in a foreign company in Beijing, who is also a part-time peddler selling T-shirts and purses. She said: "Money is not my purpose. I believe to be a part-time peddler is an attempt of new life and also my way of relaxing. I like this feeling."
小伟是一个手工艺者,他选择当"摆客"是因为喜欢自己的艺术品被别人欣赏的感觉。另外,他选择在"798创意区"摆摊,也因为觉得来这里的人最能理解他的艺术。
Xiao Wei is a craftsman. He chooses to be a part-time peddler because he wants his works to be appreciated. Besides, he sets up his stall near "798 Creative Zone" of Beijing since he holds that visitors here can best understand his art.