阳台种菜 Growing Vegetables on the Balcony
Language:中文 pin yin English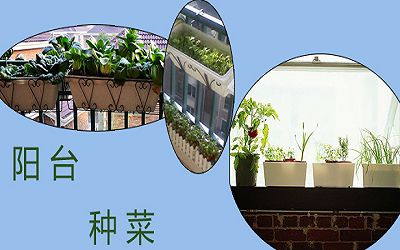 随着生活水平的提高,人们对餐桌上蔬菜的要求也越来越高。然而,市场上出售的蔬菜毕竟难以满足人们的所有要求,于是,都市人就尝试着在自己家的阳台上种菜,一种新的生活方式悄然兴起了。
As we now enjoy a higher standard of living, we demand a higher quality of vegetables on our table. After all, vegetables provided in the market are far from meeting all the quality requirements of the customers. Therefore, many people in the city are trying to grow vegetables on their own, and thus a new lifestyle has emerged.
在阳台上种菜不需要太复杂的设备,只需准备一些花盆、泥土,买上几包种子,阳台种菜的生活就可以开始了。要想蔬菜长得好,还需要施一些肥料。肥料不用专门去买,只要把家里的淘米水、菜叶子、瓜果皮塞进塑料瓶,加上一些水,盖紧瓶盖,放上十天半个月发酵,就是很不错的有机肥料了。这样做既环保,又减少了浪费,一举两得。在阳台上种菜还需要注意通风和阳光。每天让蔬菜晒晒太阳,打开窗户通通风,既让它们生长得更好,也给家里换了空气。
It requires no complicated equipment to grow vegetables on the balcony. All you need are some vegetable seeds, flowerpots and soil. Of course, you may have to prepare some fertilizers if you wish your vegetables to grow well. But don't bother to buy them specially, because vegetable leaves, rice-rinsing water, and fruit skins, once put in sealed plastic bottles with some water and ferment for a while, would become a perfect organic fertilizer that is environment-friendly and energy-saving. It is also important to make sure that your vegetables can receive enough air and sunshine. Ventilate your room and bask your vegetables in the sun every day will make them grow healthily.
在阳台种出来的蔬菜没有化肥和农药的污染,环保又健康,吃着放心。阳台上种菜投入低,而且能够持续地收获蔬菜,也能为家庭节省一笔开支。自己种的蔬菜虽然没有超市里包装好的漂亮,但口味也差不了。每天看着阳台上的菜不断长高、变大,那种劳动的喜悦和满足感用钱是买不到的。
Vegetables grown on the balcony are free from the contamination of chemical fertilizers and pesticides, truly green and healthy. Growing vegetables on the balcony costs little but can enable you to harvest constantly, which is helpful to save money for your family. Though they are not beautifully packed like those in the supermarket but they taste all the same. Watching your vegetables grow taller and flourishing every day will also bring you a joy of labor and a sense of fulfillment that can not be bought.