周末:一起去采摘吧 Picking Fruits on Weekends
Language:中文 pin yin English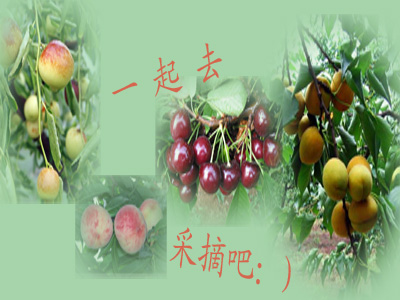 夏季是各种水果大量上市的时候,樱桃、草莓、西瓜、桃子、苹果、梨等时令水果轮番登场,喜欢吃水果的人可以大饱口福了。多吃水果好处多多,但要想吃到既新鲜又无农药残留的水果,还是得亲自去京郊的采摘园。
Summer is the time when many fruits come to the market. Cherries, strawberries, watermelons, peaches, apples, and pears – different fruits in season are available in turn, which is indeed a blessing for fruit lovers. Fruits are good for health, but if you want to eat freshest ones without worrying about the pesticide residues, you must go to pick them in orchards on the outskirt of the city.
每年5月份,樱桃就成熟了。它可是京郊果园里最先成熟的果实,同时它的成熟也意味着京郊采摘旺季的到来。此后,杏、桃、李子、冬枣等果实也纷纷登场,这种热闹的场面会一直延续到十月份。
Cherries ripen in May. As the fruit matures first in orchards, it ushers in the high time of fruit picking. After it, apricots, peaches, plums, and winter jujubes will come to the market one by one till the arrival of October.
为了方便运输,市面上卖的水果大多在七八成熟的时候就采摘了,其糖分、口感自然不如去采摘园采摘真正成熟的水果。另外,采摘园的水果一般不使用化学肥料和农药,人们吃起来就更放心。
For the convenience of transportation, fruits sold on the market are usually picked before they are fully mature. That's the reason why they taste worse than those you pick from the orchards. Besides, fruits there are free from chemical fertilizers and pesticides, so you can eat them with more reassurance.
周末的时候,带上孩子驾车去采摘园,亲自动手采摘水果,既体验到了劳动的乐趣,观赏了田园风光,增进了家人间的感情,又能吃上最新鲜的水果,可谓一举四得。
On weekends, you can go drive to the suburb for fruit picking with your family. By doing so, not only will you experience the joy of laboring and enjoy the pastoral landscape, you will strengthen your family bond while enjoying fresh fruits at the same time.