一起去桌游吧 Board Games
Language:中文 pin yin English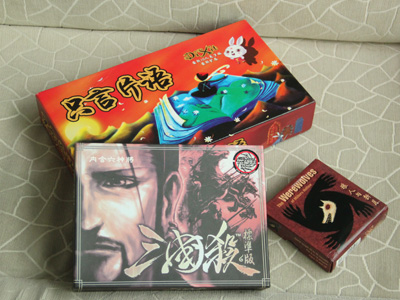 桌游是桌面游戏的简称,主要指可以在桌面上玩的游戏,一般是多人面对面进行,不同于运动或电子游戏,时下非常流行"三国杀"、"杀人游戏"都属于桌面游戏。
Board games refer to the games that are played on the table, which, different from sports or video games, require the participants to play face to face. Nowadays, famous board games such as Killers of the Three Kingdoms/Sanguosha and "Killing the Game" are very popular among the young people.
桌游是颇受当今白领群体欢迎的一种休闲活动。在一些白领聚集的区域,一些"桌游吧"悄然兴起,周末去桌游吧也成了很多白领的首选。
Board games are quite well received especially by the white collar workers. In the communities where white collars are many, some board-game bars are emerging. These bars have been regarded as a favorite place of recreation by the white collars after work.
桌游规则简单,一般花上几分钟就能掌握。另一方面,桌游又对策略的运用要求较高。通过游戏,可以训练人的思考力、记忆力、联想力、判断力,是一种很好的思维锻炼方式,对主要从事脑力劳动的白领群体有着很大的吸引力。另外,桌面游戏强调人与人之间的直接交流,互动性很强,往往通过对方的语言、表情和肢体语言作出判断,对游戏参与者的语言表达能力、情感表达方式也是一种很好的锻炼。桌游的这些特点一方面迎合了年轻人追求新鲜的心理需求,另一方面又使年轻人在休闲娱乐的同时,沟通能力也得到了锻炼和提高,还体会到了和朋友、同事交流的乐趣,因此受到了年轻人的广泛欢迎。周末的时候,如果你实在不知道该做什么,那就不妨约上一帮朋友,一起去桌游吧。
Rules for board games are easy to learn but to win the game one needs good skills to maneuver. In the game, one's thinking ability, memory, strength of association and judgment will be trained and the white collar group is attracted most by the games just because their jobs primarily involve these mental work required by the games. Besides, board games emphasize the direct communication and a lot of interaction among the participants since one's move is mainly based on the other's language, facial expressions and gestures, and thus makes the game a good way to enhance one's ability of self-expression. Not only can board games satisfy young people's psychological need for new things, but also enrich their spare time, improve their communicative ability and provide an opportunity to have fun with friends and colleagues. That's why they are so popular among the young. If you don't know what to do on the weekend, it might be a good idea to play board games with your friends.
Zhengxl
Replied on: 11-10-21 10:46
那图背景好面熟阿~
哈哈,这都是咱自己的东西,原创哒~