拜 年 Pay a new year call
Language:中文 pin yin English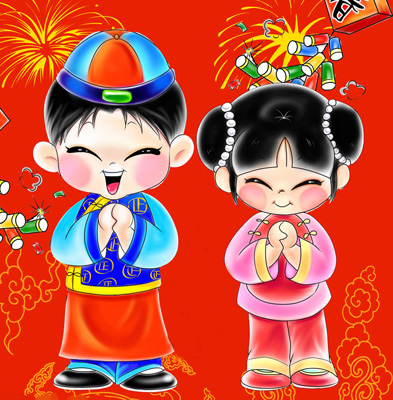 "新年快乐!祝您身体健康!""恭喜发财!"一句句表达美好祝愿的拜年话语点缀了新年的气氛,也把春节推上了节日的高潮。
"Happy new year and best wishes for your health!" "May you have good fortune and prosper!"These words expressing good will adorn the new year atmosphere and also pushes forward the Spring Festival to the climax of the holidays.
大年初一早晨,晚辈们都早早起床,穿上漂亮衣服,打扮得整整齐齐,先向长辈拜年,祝福长辈健康长寿,万事如意。而长辈便将事先准备好的"压岁钱"分给晚辈。邻居之间也要互相登门拜年,或者一起吃饭喝酒,互道"身体健康"、"新年快乐"等吉祥语。
On the morning of Lunar New Year's Day, the younger generation gets up early and dresses up in beautiful clothing. They first pay a new year call to the elders, wishing them good health and good luck in everything. The elders prepare ahead of time a gift of lucky money to offer the younger ones.. Neighbors call at each other's houses to pay a new year call, or they eat and drink together, extending propitious sayings toward one another such as "wish you good health" and "happy Spring Festival", etc.
此外,各地的拜年习俗也不一样。在中国的北方地区,拜年期间最有意思的就是亲朋好友一起"逛庙会"了。这是一项集吃喝玩乐于一体的民间性娱乐活动。逛庙会不但可以欣赏传统节目表演,如舞龙耍狮,踩高跷,传统戏剧表演,还能买到小巧精致的工艺品等等,真是让人眼花缭乱。而在中国南方地区,则讲究初一给长辈拜年,初二是出嫁的女儿带着丈夫孩子给父母拜年。随后一直正月十五,都会有亲戚朋友互相走动拜年。
In addition, new year customs are different in various areas. In Northern China, the most interesting thing is to go to "temple fair" with friends and relatives. It is a folk recreational activity, where one can indulge in eating, drinking and pleasure-seeking. You not only can enjoy traditional stage performances, such as the dragon and lion dance, stilt walking and other theatrical performances, but also purchase exquisite handicrafts, and works of art. It is truly a dazzling experience. In Southern China however, people are concerned with paying a new year call to elders on the Lunar New Year's Day. On the following day, the married daughters return to their parents' homes to pay a new year visit with their husbands and children. Soon afterwards, friends and relatives visit each other and pay a new year call until the Lantern Festival.
现在,拜年的方式也越来越多了,比如短信拜年,电话拜年,邮寄贺卡,或者发送电子贺卡拜年等等,而视频拜年等新方式,也越来越受到人们的喜爱了。
Nowadays, there are more and more ways for paying a new year call, such as by sending short messages, phone call, sending greeting cards or emailing electronic greeting cards, etc. The latest method of using video has now become a favorite.
carroll
Replied on: 12-02-15 14:48
长大了就没压岁钱了~~
不仅没钱了,还得给别人钱,今年的压岁钱起步价就是500......
chenwei
Replied on: 12-02-27 14:25
新春大吉!
现在得是晚晚年了吧