二月二,理发忙

On the second day of the second month in the lunar calendar, people are busy getting haircuts
Language:中文 pin yin English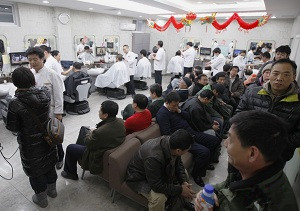 在中国,每到农历二月初二这天,很多地方都有理发的习俗,无论是在传统的街边理发摊,还是时尚的理发店,都排满了要在这天理发的人,理发店的生意非常火爆。
In many parts of China, on the second day of the second lunar month, people traditionally have their hair cut. From traditional barbershop street stalls to fashionable hairdresser shops, every establishment is crowded. The business in the barbershops is terrific.
为什么人们都挑选农历二月初二这天理发呢?这和中国传统的习俗有关。
Why do people choose this day to have haircuts? The answer relates to traditional Chinese customs.
按照传统,农历一月不能理发,因为不吉利,而一个月不理发又很难受,所以大家都在正月(农历一月)过完后的二月初纷纷理发。根据民间传说,每逢农历二月初二,是天上主管云雨的龙王抬头的日子,从此以后,雨水会逐渐增多起来。因此,这天就叫"春龙节"。在这一天理发能够带来一年的好运。为了图吉利,人们纷纷选择这天理发,就算等几个小时也没关系。
According to tradition, people cannot have haircuts during the first month of the lunar calendar, because it is unlucky. However, it is uncomfortable not to have a haircut for a month; therefore, people go to the barber in the beginning of the second lunar month. According to folklore, the second day of that month is the day that the Dragon King in charge of clouds and rain raises his head. From that day on, the rainfall increases, so this day is called "Chunlong Festival." To bring themselves good fortune, many people choose to have haircuts on this day, even, even if they have to wait for several hours.
二月二,你理发了吗?
It's the second day of the second month. Have you had a haircut today?
图片来源:http://roll.sohu.com/20120223/n335648411.shtml