泼水节 Water-Sprinkling Festival
Language:中文 pin yin English
"泼水节"一般在公历的四月中旬,已经有700多年的历史了,是傣族最盛大的传统节日。
The Water-Sprinkling Festival, which is usually in the middle of April, has a history of over 700 years. It is the largest traditional festival for the Dai ethnic minority.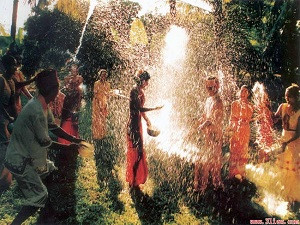 泼水节刚开始时,彬彬有礼的傣家姑娘一边说着祝福的话语,一边用竹叶、树枝蘸着盆里的水向对方洒过去。到了高潮时,人们用铜钵、脸盆,甚至水桶盛水泼向对方,在大街小巷,嬉戏追逐。只觉得,迎面的水,背后的水,尽情地泼来,一个个全身湿透,但人们兴高采烈,到处充满欢声笑语。
At the beginning of the festival, courteous Dai girls say words of blessing while dipping bamboo leaves and branches into a water pot, then sprinkling those nearby. When it comes to the climax, people use copper bowls, basins, and even buckets to throw water at each other. They have fun chasing each other in the streets and alleyways. Water splashes in front and behind, and despite being soaked from head to toe, everyone is in high spirits and full of laughter.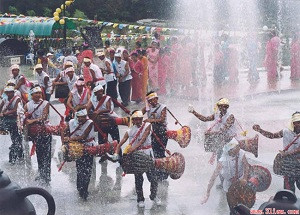 经过一段水的洗礼过后,人们便围成圆圈,不分民族,不分年龄,不分职业,翩翩起舞。激动时,人们还爆发出"水、水、水"的欢呼声。有的男子边跳边饮酒,如醉如痴,通宵达旦。
After this ceremonial shower, people of all nationalities, ages, and occupations dance happily in a circle. During moments of excitement, people cheer, "Shui, shui, shui!" (Water, water, water!) Some men drink while dancing through the night.
如果你这个时候来到了云南,有人向你泼水,不要生气,那是他们在表示对你的深深祝福。
If you come to Yunnan during the festival, do not be mad if someone sprinkles water on you, as that represents a deep expression of blessing.
图片来源:
http://www.3lian.com/gif/2006/3-21/12001118291.html