卡拉OK vs KTV

Karaoke vs KTV
Language:中文 pin yin English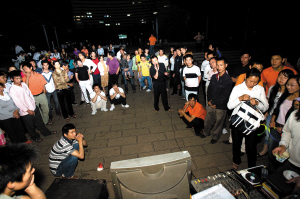 卡拉OK最早起源于日本,后来传入台湾,再由台湾传入中国大陆,通常是播放没有主唱人声的音乐伴奏,在电视荧幕上同步播放有着节拍提示的歌词,然后参与者一边看着歌词一边拿着麦克风唱歌。
Karaoke originated in Japan before being introduced in Taiwan and then mainland China. It generally is musical accompaniment without lead vocals. The lyrics and beat appear on a television screen, which the singer watches while singing.
卡拉OK一般是在大厅或者广场上,人们认识或者不认识都可以,需要别人帮你放歌,唱不好也会惹人笑,有些人会觉得不好意思,这时候他们会找个包间,用电脑点歌,想放哪首放哪首,还可以按自己的爱好听歌或者放音乐跳舞。价格也并不高,这叫做KTV。
Karaoke is usually sung in a large hall or outdoors in a square. It's fine if the participants don't know each other. You need others to help you start the music. Some people get embarrassed because others will laugh if you do not sing well. Out of courtesy, in such situations, sometimes people arrange to sing in a private room and request songs in a computer. You can choose the songs based on your preferences and can dance to the music. It is not expensive and is called KTV.
现在,很多年轻人都喜欢通过KTV这种方式和朋友一起休闲,一大堆人聚在一起,有吃有喝有唱的,很开心。而卡拉OK则更被中老年人所喜爱,广场上新鲜的空气、热闹的气氛让他们结交更多的朋友。
Today, many young people like to relax with their friends by singing KTV. A group of people gets together for eating, drinking, and happy singing. But Karaoke is more preferred by middle-aged people and senior citizens. The fresh air in an outdoor square and joyous atmosphere allows them to make more friends.
图片来源:http://society.yunnan.cn/html/2009-05/13/content_361758.htm