冰糖葫芦一串串

Candied haws on a stick
Language:中文 pin yin English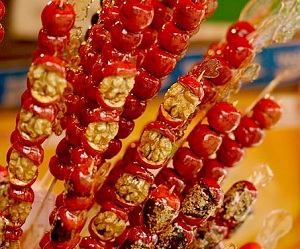 一到冬季,老北京的大街小巷里就会传来"冰糖葫芦,冰糖葫芦……"的叫卖声。春节更是冰糖葫芦大卖的时候。从正月初一到十五,在北京和平门外琉璃厂厂甸庙会上人山人海,人潮间四处穿梭着冰糖葫芦的身影。
In winter, on the streets and alleyways of old Beijing, vendors call out, "Candied haws, candied haws…" The Spring Festival is the best time for selling candied haws. From the first to the fifteenth of the first lunar month, people crowd in the temple fairs in Changdian, on the Glass Street outside Hepingmen, where candied haws can be seen everywhere.
传统的冰糖葫芦做法是将野果用竹签串成串后蘸上麦芽糖稀,糖稀遇风会迅速变硬,这样就形成了又脆又甜的冰糖葫芦。制作时选用的野果以山楂居多,不过现在也有创新的草莓冰糖葫芦,香蕉冰糖葫芦,桔子冰糖葫芦,蜜枣冰糖葫芦,腰果冰糖葫芦,绿豆沙冰糖葫芦,核桃冰糖葫芦,朱古力冰糖葫芦和钙奶味冰糖葫芦等。
The traditional method of making candied haws is to string wild fruits on bamboo sticks and then dip them in malt syrup. The malt syrup turns hard as soon as it is exposed to the air, creating the crispy and sweet sugar-coated haws. The wild fruits used are mostly haws. But now there have been innovations made, such as sugar-coated strawberries, bananas, oranges, honey dates, cashews, bean pastes, chestnuts, chocolate, and milk-flavored sugar-coated haws.
看到这红红的冰糖葫芦,很多人就能回忆起自己的童年,那又酸又甜的味道,代表的是最宝贵的童年啊!
Seeing these red sugar-coated haws, many people think back on their childhoods. That sour and sweet taste represents the most precious days of youth.
图片来源:
http://baike.baidu.com/picview/53261/5293888/0/964b2e4e6aadc686d0c86a5b.html#albumindex=1&picindex=7