Language:中文 pin yin English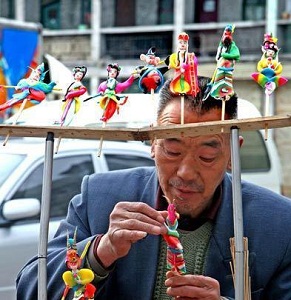 在北京的庙会逛逛,经常会发现一些很可爱的面人,制作面人的手艺人把
面团蒸熟后着色,然后当场捏成各种戏剧人物和飞禽走兽,惟妙惟肖,这个行当以"面人汤"等最为知名。
When you stroll through a Beijing temple fair, you will often see some adorable dough figures. The craftsmen who make them dye the dough after it is steamed, then shape it into all kinds of famous characters, birds, and animals, which are remarkably lifelike. In this profession, the dough figures made by Tang are the most well-known.
捏面人这个手艺,传说还和清朝著名的大臣刘墉有关。据说是他家的佣人老王突然来了兴致,把馒头做成了各种形状,刘墉看了觉得很好,佣人就开始改良这些馒头,给它们上色,后来刘墉将老王捏的面人送给皇帝当生日贺礼,得到了皇帝的赏赐。刘墉就把赏赐给了老王,让他单独做起了捏面人的买卖,这个手艺就在北京流传下来了。
According to legend, this handicraft is related to Liu Yong, a famous minister in the Qing Dynasty. It was said that Lao Wang, his servant, gained a sudden interest in making steamed buns into to all kinds of shapes. Liu saw and liked them. Then Lao Wang began to improve and dye these buns. Later, Liu presented the dough figures made by Lao Wang as birthday presents to the emperor, in turn receiving an award. Liu gave the award to Lao Wang and let him independently run a business making and selling dough figures. This handicraft was then handed down in Beijing.
面人颜色丰富,品种多,体积又小,便于携带,还很便宜,经过长期的改良,现在也能够长久保存,因此成为送礼的选择,很多外国人也对面人感兴趣,这么可爱的中国特色一定要买几个回去跟大家一起分享。
With rich colors, ample varieties, and delicate size, the dough figures are easy to carry and cheap. Following long-term advances, the figures can now be preserved for a long time. Thus, it has become a gift of choice. Many foreigners are interested in dough figures, so you should buy some of these adorable Chinese specialties to bring home and enjoy with others.
图片来源:http://weihai.hiao.com/content/2011-02/07/content_8657324_6.htm