Language:中文 pin yin English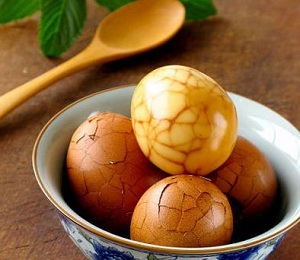 If you have breakfast in China, you have the chance to eat a traditional snack: tea leaf eggs.
茶叶蛋是一种风味小吃,也是我国传统的食物之一。它的做法很简单,在煮鸡蛋的过程中,加上茶叶、酱油、盐等即可。如果想味道更浓郁一些,可以先煮好鸡蛋,然后把蛋壳敲碎,再放入调料煮,这样煮好的茶叶蛋就香味扑鼻了。
A tea leaf egg is a kind of regional dish and one of China's traditional foods. Its preparation is simple and involves adding tea, soy sauce, and salt to boiling eggs. For a flavor stronger, one can boil the eggs first, crack the eggshells, and then put the seasoning into the boiling water. Using this method, the boiled tea eggs have a sweet and savory fragrance.
因为茶叶蛋制作简单,价格也不贵,并且方便携带,很多人选择它作为早餐。在车站、街头巷尾,游客行人较多的地方,你经常会看到煮着茶叶蛋的小锅。鸡蛋本身就是一种很健康的食品,加上茶叶有提神醒脑的功能,所以拿茶叶蛋当早餐还有让人一天都精力充沛的作用。
Because tea leaf eggs are simple to make, inexpensive, and easy to carry, many people choose them for breakfast. At bus station, on streets, and in alleys and other places crowded with tourists and pedestrians, you will often find little pots boiling tea leaf eggs. Eggs themselves are very healthy. With the refreshing effects of the added tea leafs, eating tea leaf eggs for breakfast can make a person energetic all day.
图片来源:http://henan.sina.com.cn/food/2010-06-15/131713582.html