哪儿的煎饼果子最正宗

Where can you find the most authentic jianbing?
Language:中文 pin yin English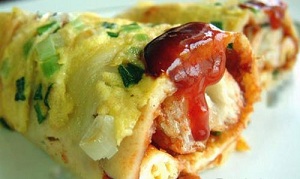 最近,煎饼果子的"血统"问题闹得沸沸扬扬,好事者都找到美国白宫的
请愿网站评理去了。原因是,煎饼果子的发源地——天津,要找回自己的正宗地位。
Recently, the issue of the authenticity of the jianbing (a type of savory Chinese pancake) has stirred a fierce debate. Some people have even submitted petitions on the White House's official website. The reason is that Tianjin, the birthplace of the jianbing, wants to recover its seat of authenticity.
煎饼果子的确起源于天津,是天津历史悠久的知名小吃。这个食物多出现在卖早点的小摊上,因其价格便宜,是比较大众化的早餐。它方便食用,忙碌的时候人们也用来当午餐或者晚餐。煎饼果子是由绿豆面薄饼、鸡蛋、还有油条组成,配以面酱、葱末、辣椒酱等调味品。
The jianbing, which indeed originated from Tianjin, is a famous snack with a long history in Tianjin. This snack often appears in breakfast food stalls. It is a popular choice in part thanks to its cheap price. It is easy to eat, and people who are busy sometimes grab one for lunch or supper. The jianbing is composed of a thin pancake made of green mung bean flour, eggs, and fried youtiao doughnuts, plus sauce, green onions, and chili sauce.
煎饼果子传到了北京,又有了新做法。北京人用白面、紫米面、玉米面等代替绿豆面,还在煎饼中加入了火腿肠或者榨菜。现在还有年轻人创新用番茄酱、沙拉等代替面酱,做法五花八门,倒也很受欢迎。此外,煎饼果子流传到中国的其他地方,也根据当地人的口味进行改版。可以说,虽然都叫煎饼果子,做法已经大不同了。
When the jianbing came to Beijing, new methods of preparation appeared. Beijingers replaced the green mung bean flour with wheat, rice, or corn flour, and add pork sausages and pickled mustard tubers. Nowadays, some young people innovatively use ketchup and salad dressing to replace the sauce. The varieties are numerous, and many are very popular. In addition, the jianbing has come to other parts of China, where people have modified it to suit local tastes. One might say that although it is still a jianbing, its method of preparation is very different.
图片来源:http://hb.qq.com/a/20110214/001086_3.htm