走向世界的豆腐

The world-famous tofu
Language:中文 pin yin English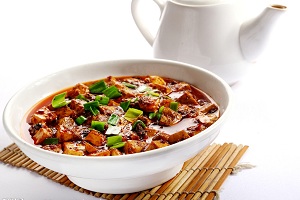 豆腐在中国可是非常有名气的,它是一种传统食品,传说是我国汉朝时候的炼丹家---淮南王刘安发明的绿色健康食品。豆腐含有多种微量元素,对身体特别有好处,而且价格很便宜,成了中国人餐桌上的家常菜。常见的有名的豆腐食品有豆浆、麻婆豆腐、豆腐脑等,豆腐干也是一种很不错的吃法。
Tofu, which is very famous in China, is a traditional type of food. According to legend, this green and healthy food was invented by Liu An, King of Huainan and alchemist from during the Han Dynasty. Tofu, with its many trace ingredients, is very good for humans, and with its cheap price, it has become part of home cooking for Chinese people. The most common and most famous tofu dishes includes soy milk, Mapo tofu, tofu jelly, and more. Dried tofu is also a good method of tofu preparation.
现在,豆腐不仅在中国享有很大名气,还走向了世界。它就像中国的茶叶、瓷器、丝绸一样享誉世界。20世纪80年代,美国著名的《经济展望》杂志竟然宣称:"未来十年,最成功最有市场潜力的并非是汽车、电视机或电子产品,而是中国的豆腐。"提到麻婆豆腐,相信很多喜欢中国美食的老外都会大流口水。
Today, tofu is famous not only in China, but also around the globe. Like Chinese tea, porcelain, and silk, it is now renowned worldwide. In the 1980s, the famous American magazine The Journal of Economic Perspectives claimed, "In the future decade, what has the most market potential is not cars, televisions, or electronics, but China's tofu." It is believed that for foreigners who like Chinese cuisine, Mapo tofu will make their mouth water.
图片来源:http://www.nipic.com/show/1/55/5877538k522d2e68.html