粽子飘香

Delicious zongzi (traditional Chinese rice pyramids)
Language:中文 pin yin English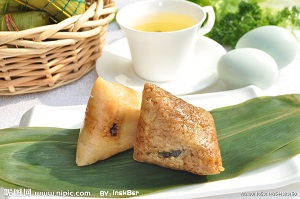 粽子是汉族过端午节的传统食品,由粽叶包裹糯米蒸制而成。每年农历五月初五,家家户户都要浸糯米,洗粽叶,包粽子。
Zongzi, a sticky rice pyramid wrapped in leaves and steamed, is a traditional food for the Han people's celebration of Dragon Boat Festival. On the fifth day of the fifth lunar month, every family will soak sticky rice, wash reed leaves, and wrap zongzi.
据传,粽子是为纪念古时候一个叫屈原的人而流传下来的。据说当年屈原因为对统治阶级感到失望,愤而投身汨罗江。当地人很怀念这个忧国忧民的人。为了避免江里的鱼吃掉屈原的身体,就纷纷将米粮投入江中,希望鱼虾只吃这些米粮而不伤害屈原。后来人们又在米的外面裹上了粽叶,就形成了今天的粽子。
According to legend, zongzi was handed down in order to remember a person named Qu Yuan, who lived in ancient times. It is said that Qu Yuan threw himself into the Miluo River because he was disappointed in the ruling class. The local people missed this person who cared for the fate of his country and his people. In order to keep fishes from eating Qu Yuan's body, they threw rice into the river, hoping that these fish and shrimp would eat the rice and not him. Later, people wrapped the rice with reed leaves, creating in the zongzi of today.
现在,粽子里面不只有糯米,有的还放入豆沙、莲子、红枣、蛋黄、火腿等,口味十分丰富。每逢农历五月初五前后,粽子就会出现在人们的餐桌上,算是一种端午节的传统风味食品。
Nowadays, zongzi contain not only sticky rice, but also sweetened red bean paste, lotus seeds, red dates, egg yolk, ham, and other fillings, which are very tasty. Before and after the fifth day of the fifth lunar month, zongzi appear on people's dinner tables, and are considered a traditional food for Dragon Boat Festival.
图片来源:http://www.nipic.com/show/1/55/4650494k1a5b7ad1.html