五彩缤纷太阳伞

Multi-colored parasols
Language:中文 pin yin English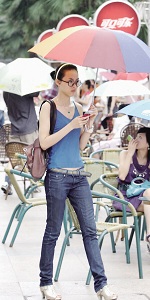 夏日里走在街头,即使晴天会看见很多女性打着伞。不过,这不是雨伞,而是被称做太阳伞或者遮阳伞的伞,专门用来遮挡阳光。
When you walk on the streets in summer, you can see many women holding umbrellas. However,, these are not umbrellas whose purpose is to keep out the rain,, but parasols which are specially used to keep out sunlight.
太阳伞用的面料大至分为涤纶布、牛津布和帆布。涤纶布是遮阳性和防腐性最好的,价格也相对实惠,因此是制作太阳伞的首选。太阳伞的结构和雨伞一样,也有伞骨、伞柄及伞布,并且样色、图案更加多种多样。太阳伞也有防雨的功能。如果遇到下雨天,也可以当雨伞,完全可以做到一伞二用。
The materials used for making parasols are usually polyester fabric, nylon oxford and canvas. Polyester fabric is the best in terms of blocking out sunlight and resistance to mold, and the price is relatively affordable. It is the first choice of material used in making parasols. The parasol is made in the same way a normal umbrella is. It has ribs, a handle and umbrella cloth, and comes in various colors and patterns. The parasol also has the function of being waterproof. On a rainy day, it can also be used as a common umbrella.
中国女性把白皙的皮肤看成是美的象征,所以她们喜欢在夏天打着太阳伞防紫外线,避免晒黑或者晒伤。五彩缤纷、图案丰富的太阳伞,会给人眼前一亮的感觉,成为街头一景。远远望去,一把把太阳伞汇聚一处,就像一道美丽的彩虹。
Chinese women see having a fair complexion as a sign of beauty. Therefore, they like to open a parasol to protect themselves from ultraviolet rays in the summer in order not to become tanned or burned. These colorful parasols with their various patterns can form an impressive street scene. When seen from far away, parasols can look like a beautiful rainbow.
图片来源:http://epaper.gxnews.com.cn/jb/html/2009-05/27/content_1464243.htm