中国的披萨——烧饼

Chinese style baked roll---Chinese pizza
Language:中文 pin yin English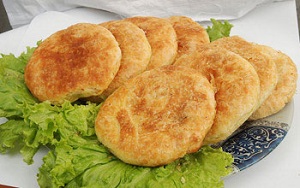 在中国,吃早餐时你经常能看到一种面食,叫做烧饼,很多北方人还喜欢用它当作午餐和晚餐,可以说,烧饼家喻户晓。不过,这看似简单的食物,其实是一种很古老的吃食,据历史考证,烧饼算是个外来物,是汉代的班超从西域带回来的,也许和西方的披萨是一个起源,不过来到中国,这烧饼就有了中国特色。
In China, you often see a kind of cooked flour-based food when people have breakfast called Chinese style baked roll. Many northerners also like to eat it for lunch and supper. You could say that it is well-known in every household. But this seemingly simple snack is actually a kind of ancient food. According to historical research, it was an exotic food that was brought by Ban Chao from the western regions during the Han Dynasty. It may have had the same origins as pizza in western countries, but when it was introduced to China, it had unique Chinese features.
烧饼的特色在于酥脆,一般用油和面,然后制成圆形或者方形,放入火炉中烤。按照个人的口味不同,烧饼可以放入馅料,甜味的烧饼里面多放糖、豆沙酱、麻酱等,咸味的烧饼里面放盐或者肉馅,不过因为制作需要烘烤,基本不放青菜。
It is unique in that it is crisp, made of oil and flour, can be round or square in shape and is put in the oven to bake. Various types of stuffing are put into it depending on different tastes. Sweet Chinese style baked roll is filled with sugar, sweetened bean paste or sesame paste, etc. For salty rolls, salt or chopped meat is put in. Because it needs to be baked, vegetables are usually not used.
烧饼因为本身含有的水分少,不容易变质,并且制作简单价格便宜,其本身的味道又省却了米饭需要配菜的苦恼,因此古时候人们出远门都喜欢带烧饼,现在人吃的讲究,还会在烧饼里面夹鸡蛋、火腿肠,不过烧饼现在多是家常食物,不再是出远门的食品了。
Because it contains very little water and does not easily go bad, as well as being easy to make and cheap, then, like rice, it is very easy to eat with side dishes, which is why people in ancient times liked to take it with them when they traveled long distances. But people in modern times are particular about eating, so they put eggs and sausages in it. Now, it has become a home dish that is not taken far from home.
图片来源:http://tc.zxcoo.com/ahtc/wuhushi/jinghuqu/6725.shtml