请吃喜糖

Please eat the wedding candies
Language:中文 pin yin English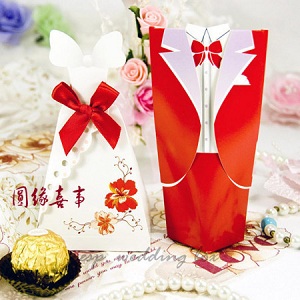 喜糖在中国人的婚礼中不可或缺。通常,喜糖是婆家准备。接新娘的时候,新郎新娘入洞房的时候,都要撒发喜糖,让大家一起分享新婚夫妻的甜蜜美好。以前喜糖分为四个品种,称为"四色喜糖",包括冰糖、冬瓜糖、橘糖和龙眼,象征四季分明,甜甜蜜蜜,白头偕老。如今,喜糖的种类和用途逐渐简化。婚礼现场,新婚夫妻把买来的糖果放在盘子里,供大家品尝,参加婚礼的人也喜欢拿一把喜糖回家,如果家里有未婚成年男女,带回喜糖象征将喜气带回,寓意也能
好事将近。
Wedding candies are an absolutely necessity for the wedding ceremony of Chinese people. Usually they are prepared by the husband's family. When the bride is taken to her husband's house and the newly-weds are in the bridal chamber, wedding candies are given to everybody, thus allowing others to also share in the sweetness and happiness of the couple. The wedding candies were divided into four types in the past, called "four-color wedding candies," including rock candy, candied melon, orange candy, and longan, and represented four distinct seasons, sweetness, and marriage blessings. Nowadays, the variety and purpose of wedding candies have been gradually simplified. At one's wedding ceremony, the newly-weds put the candies they bought on the plates of guests for them to eat. People attending the ceremony also like to take the candies home. If there are single adult family members, taking wedding candies home is done to create a happy atmosphere in their environment in hopes that there will be another wedding ceremony to take place soon.
近些年,新婚夫妻还时兴把喜糖分给同事们。开始只是简单地给每个人分一把,渐渐的一些很有心的新婚夫妇就在包喜糖的盒子上面做文章。有的用红色的铁盒,有的用爱心小熊,还有的把婚纱照贴在喜糖盒子上,颇具创意。
In recent years, it has become popular for newly-weds to share wedding candies with their colleagues. In the beginning, it was just simply giving each colleague a few candies. Gradually, however, some heartfelt newly-weds began make an issue of the packaging for the wedding candies. Some use red iron boxes, some use care bears, and others paste their wedding photos on the boxes. It has become a very innovative part of one's wedding, and something everybody looks forward to.
图片来源:
http://cache.baiducontent.com/c?m=9d78d513d9d706ef06e2ce384b54c0676a499d267992c715088bc413cd3f1a1b003bf4bb50734d5bce84263441f85456e8fb3078330827bc&p=c472c64ad6c705ff57ee913a1e4fcc&newp=9f78c116d9c345ff57ee9164595c82231615d70e3fd2d513&user=baidu