读报刊栏知天下事

Learn everything through reading the press bar
Language:中文 pin yin English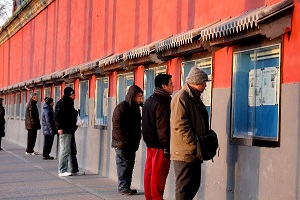 想要获得免费读报纸的机会,在中国是件很容易的事情,去报刊栏就可以知晓天下事了。
It is very easy to have the opportunity to read newspapers for free in China. You can read the press bar to learn about the world.
报刊栏多设立在城市的人行道边,政府竖立一块木板或者钢板,将近期发行的报纸贴上去,然后外面罩上玻璃门防止风吹日晒。报刊栏包含一份报纸的多个版面,完全是免费阅读的,而且还会有相关部门定期更换报纸,以确保新闻的时效性。
Press bars are usually set up along the sidewalks of cities. Government bodies set up a plank or a steel plate and paste the most current newspapers in it and cover with glass door in case of wind or rain. The press bars include a multitude of layouts from different newspapers and are free to read. The relevant departments at regular intervals replace the newspapers to guarantee the timeliness of the news.
报刊栏在新闻传播不是特别发达的时代,能够发挥巨大的传播信息的社会作用,现在有了电视和互联网,信息爆炸,报刊栏仍然存在,它是很多老年人的心头爱,看着纸质的报纸,了解国内外大事,旁边也许还有人能够一起品评论足,这些乐趣是互联网无法比拟的。有时候,人们等车或者等人,也可以看看报刊栏里的报纸打发时间。
Press bars played an important social role in spreading information in the past. Now people have the television and internet. Despite the information explosion, press bars still exist. This method is still favored by many older people who read paper newspapers to learn about great events at both home and abroad. They also like to have discussions and make comments if there are also other people reading. This type of fun cannot be gained from the internet. Press bars also help people kill time when they are waiting for buses or on other people.
图片来源:
http://bbs.btv.com.cn/frame.php?frameon=yes&referer=http://bbs.btv.com.cn/viewthread.php?tid=32557