枕头里面装什么?

What's in the pillow?
Language:中文 pin yin English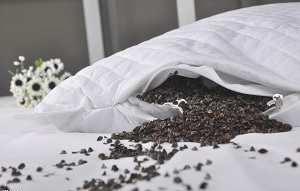 枕头里面装什么?在外国人看来,这是一个很容易回答的问题,就是棉絮或者羽绒。睡起来软软的,很舒服,少女们还喜欢用枕头打枕头战,一时间羽绒满天飞,颇有情趣。来到中国,枕头里面可装的东西就多了。
What's in the pillow? From the viewpoint of a foreigner, it is a very easy question to answer that cotton fibers or feather are found in pillows. They are soft and comfortable to sleep on. Girls like to have pillow fights with the feathers flying around and everybody having fun. In China however, there are various types of materials that can be found in pillows.
中国人认为,枕头不仅可以用来睡觉,也有保健的功能,所以枕头里面的填充物不能马虎。中国古时候的贵族喜欢用玉枕,玉枕是用玉石打磨成的枕头,他们认为这样的枕头能改善血液循环,改善睡眠。玉石中的矿物对人体也有一定的好处。还有人用石头、木材等制成枕头。总之,古代的枕头都很硬,睡起来不一定舒服,但是对颈椎有保护的作用。
Chinese people believe that pillows not only can be slept on, but also have the function of helping people stay healthy. Therefore, the material put in pillows must be taken seriously. In ancient times, nobles liked to use jade pillows made of jade. They thought it could improve blood circulation and sleeping habits. The mineral in the jade also had beneficial properties for the human body. In addition, some people used stone or wood to make pillows. In short, pillows in ancient times were usually very hard. Although it was not comfortable to sleep on, it had the effect of protecting the cervical spine.
现在中国普通老百姓家里,枕头里面常装的是荞麦皮、稻谷壳、晒干的橘子皮、晒干的茶叶等等,这些天然的材料比较透气,也很环保,深受中老年人的喜爱。也有的年轻人喜欢跟国际接轨,用羽绒或者人造纤维填充枕头。枕头里面可以装的东西越来越多了。
Nowadays, in the houses of common Chinese people, buckwheat husks, unhusked rice, sundried orange peel, sundried tea leaves, etc. are usually used to stuff pillows. These natural materials are usually ventilated and environmental friendly, which are liked by middle and old aged people. Furthermore, some young people like to follow international standards of stuffing pillows with feathers or artificial fibers. In today's society, no matter where you are there are more and more things that can be put in the pillows.
来源:
http://image.baidu.com/