Language:中文 pin yin English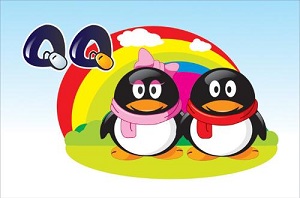 提到QQ这个聊天工具,中国人都不陌生,甚至很多外国人也拥有自己的QQ账号。QQ在中国人的心中,不仅是一款聊天工具。尤其在很多八零后看来,它还代表着那些随心所欲的青春时光。
When mentioning QQ, Chinese people are not strange to this chatting tool and even many foreigners have their own QQ account number. For Chinese people, QQ is not only a type of chatting tool, but for many people born in 1980s it also represents their arbitrary youth.
QQ是1999年腾讯公司推出的一款基于网络的即时通信软件,能够提供在线聊天、视频电话、文件传输等功能。1999年QQ刚推出的时候,网络已经开始在中国大陆普及。虽然很多家庭没有电脑,但是网吧已经在城市中遍地开花,尤其年轻人把上网吧玩电脑当成是一件很时髦的事情。通过QQ和认识的人聊天,或者结识更多不认识的朋友,既新奇又时尚,因此QQ很快就普及开来。QQ账号是一串数字,数字越短,说明这个人用QQ的时间越长。
Launched by Tencent in 1999 as an instant messaging internet based software program, QQ provides many functions, including online chatting, video phone calling, file transferring, etc. When it was launched, the internet had just become popular in Mainland China. Although many families did not have computers, internet cafes were everywhere in cities. Many young people took to playing computer games as a type of fashion and form of cultural expression. It was novel and fashionable to chat with people you know and meet new people through QQ, and QQ became popular quickly. QQ accounts are made of numbers, and the fewer the numbers in one's account shows how long a person has been using QQ, and in turn became a type of status symbol.
使用QQ时,人们可以选择图片或者照片作为自己的QQ头像,并且能够选择"在线"(意思是可以让其他人知道自己启动了QQ)或者隐身(虽然上了QQ,但是其他人看不到)模式,如果两个人同时在线,就能畅所欲言。人们也可以通过查找结识陌生人。一些未婚男女通过QQ相识,并且发展出一段爱情,有的还成功开花结果。
When using QQ, people can choose pictures or photos as their QQ profile picture and choose to appear "online," which means other people know you have your QQ open, or "invisible," which means that even if you are logged on to QQ, other people cannot see you. If two people are both online, they can speak freely with each other. People can meet strangers through searching, and some unmarried men and women even meet online via QQ and have gone on to form relationships and get married.
QQ的标志是一只小企鹅。如今在中国,虽然MSN、Skype等聊天软件也被广泛使用,不过只要有打开着的电脑,你还是会很容易看到电脑显示屏任务栏中,站着一只可爱的小企鹅。
The symbol of QQ is a little penguin. In China, although other chatting software programs like MSN and Skype are also used widely, it is still QQ that is the most popular. No matter if at the office or an internet café, you will always see the cute little penguin in the taskbar of a computer whenever the computer is turned on.
图片来源:http://image.baidu.com/