向教师致敬的节日

Festival to Pay Respects to Teacher's Day
Language:中文 pin yin English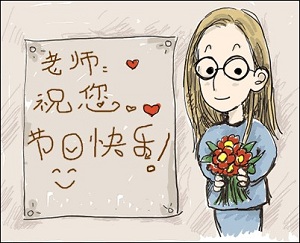 在中国大陆,新学年开学没多久, 9月10日那天,教师们会迎来自己的节日——教师节。
In Mainland China, on September 10, not long after the new school year has begun, teachers are celebrated with their own festival --- Teacher's Day.
1985年,第六届全国人大常委会第九次会议,同意了国务院关于建立教师节的议案,决定把每年的9月10日定为教师节。从那以后,教师们就有了属于自己的节日。
In 1985 at the Ninth meeting of the Sixth NPC Standing Committee, members agreed on the proposal to establish Teacher's Day on September 10 of each year, and from this time on teachers have had their own festival.
中国人历来尊师重教。设置教师节,是为了让全社会都重视为祖国的教育事业做出巨大贡献的教师们,同时向那些常年辛苦的教师们致敬。每当到了9月10日教师节,学生们会主动制作一些小礼物送给老师表达感谢,社会各界举办各类活动庆祝这个节日。政府也会在教师节推出一系列的政策,提高教师们的待遇。
Chinese people have always respected teachers and pay close attention to their own education. Establishing Teacher's Day was another way to let society value the teachers who make great contributions to the nation's education system and pay tribute to the teachers who work hard each day of the year. On September 10, students will make little gifts and give to their teachers as an expression of gratitude. In society, activities will be held to celebrate this festival, and in addition the government will also launched a series of policies to improve their treatment.
2004年开始,有不少人呼吁教师节应该是个有文化内涵的节日。他们认为,把教师节定在中国古代最著名的教育家——孔子的生日最为合适。按照推算,孔子的生日是公历9月28日。这个日子远离开学,教师们不用忙碌开学的各项事情,也可以和国庆的假期连在一起休息,更适合让教师们休假。也许以后的教师节,真的可能会改日期了。
In 2004 many people began to appeal that te Teacher's Day should be a festival with cultural connotations. They thought that it would be most proper to make Teacher's Day on the same day as the birthday of Confucius, the most famous educators of ancient China. Based on calculations, the birthday of Confucius is September 28. Using this logic, if the day is changed it will also give teachers more of a rest, as opposed to having the holiday land right at the start of the school year. Furthermore, if the date is changed, it can also be connected with the National Holiday of early October and give teachers a proper rest. In the future perhaps the date for Teacher's Day will actually be changed.
图片来源:
http://baike.baidu.com/