Language:中文 pin yin English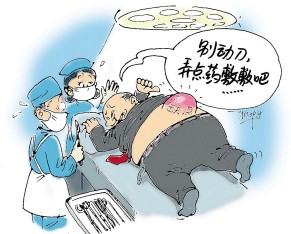 "讳疾忌医"来源于战国时代的一个故事。战国名医扁鹊有一天见到了蔡国的国王蔡桓公,他说您的病现在在皮肤里,如果赶快医治的话就好了,蔡桓公说我没病,拒绝医治,后来扁鹊又见了几次蔡桓公,每次都劝说他赶紧医治,蔡桓公不当回事儿,到了最后,蔡桓公的病痛发作,请扁鹊前去医治,扁鹊却逃往秦国了,因为他知道蔡桓公的病已经无法治愈了。
"讳疾忌医"is a story that originated during the Warring States period. One day, Bian Que, a famous doctor, saw King Qin Huan, ruler of Cai State. He told the latter that his illness was in his skin and that the king would recover better if he received medical treatment as soon as possible. The ruler responded saying he was OK and refused to be treated. Later, the doctor managed to persuade King Qin Huan to receive medical help. Not taking it seriously however, the pained ruler eventually did call on Bian Que to treat him, though the doctor had already fled to Qin State because he knew King Qin Huan's illness had no cure.
"讳疾忌医"表面的意思是明知道自己生病了,却不看医生,比喻发现微小的错误后不但不及时改正,反而掩饰,到最后招致更大的损失。
The literal meaning of "讳疾忌医" pertains to one concealing his illness and avoiding treatment. It is a metaphor for mistakes hidden instead of corrected. In the end, this leads to a bigger loss.
图片来源
http://wzrb.66wz.com/html