泰国洪水引发涨价"蝴蝶效应"Flood in Thailand Triggered "Butterfly Effect" in Price Rising
Language:中文 pin yin English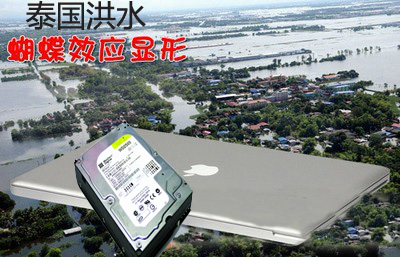 泰国洪水

肆虐

有好几个月了,而

蝴蝶效应

已经显现。全球许多数码产品都与泰国有关系,比如电脑、单反相机等,它们的价格都不太稳定,部分地区香米价格也开始上涨。
Thailand has been inflicted by flood for months and its "butterfly effect" in price rising has appeared. Thailand is the major manufacturer of digital products, such as computer, SLR-Camera and so on, and prices of these digital products are now fluctuating. Furthermore the price of fragrant rice has also been raised in some places.
泰国是世界上第二大硬盘生产国,全球大约40%的硬盘在泰国生产,世界四大硬盘厂商西部数据、希捷、东芝以及日立均在泰国设有工厂。在洪水的破坏下,西部数据的两家工厂被迫关闭,需要花费4到6个月的时间才能恢复正常生产。尽管希捷和日立的工厂幸运地躲过了这场洪灾,但是,由于电力供应和道路交通的恢复需要时间,两家公司的硬盘生产同样受到影响。

据悉

,希捷已经将四季度的全球硬盘出货量预期从之前的5500万块下调到4000万至5000万块。
As the second largest hard disk manufacturer in the world, Thailand contributes to almost 40% of the global output. The world four largest hard disk manufacturers, Western Digital Corporation, Seagate, Toshiba and Hitachi, all have their factories in Thailand. However, because of the flood, two plants of Western Digital Corporation are forced to close and it will take another 4-6months for them to put back to normal. Although Segate and Hitachi were not caught up in this flood, their productions are also affected because of the damage to the public electrical and transport facilities. It is reported that Segate has already reduced the shipment of its hard disks from the anticipated 55,000,000 to 40,000,000 or 50,000,000.
业内人士表示,泰国持续洪水可能对全球硬盘供应链产生影响,进而短期内会使全球个人电脑价格上涨。著名电子产品公司苹果公司也表示,洪水可能会引发全行业硬盘短缺危机。
The insider said that the global supply chain of hard disks might be affected by the continuous flood in Thailand, which will lead to price rising of personal computers in a short time. The famous computer company Apple said the flood in Thailand might cause the risk of hard disk shortage in the industry around the world.
"几乎比以前贵了一倍。"计划购买硬盘的陈先生说:"西部数据500G的硬盘,一个多星期前的价格还是200多元,现在,报价已经上到了500元。最低价也要440元。"750G和1T的硬盘也在原基础上上涨了近200元。
"The price almost doubled." Mr. Chen who planned to buy a hard disk recently said so. "A 500G HD of Western Digital costs¥200 a week ago, but now the price rises to ¥500. The lowest price is as much as ¥440." The 750G and 1T HD also go up by ¥200.
此外,泰国新米本该在这段时间上市,但是受到洪水影响,估计还要延迟一段时间。深圳的泰国米供应商表示,目前在售的泰国香米都是去年的产品,所以价格暂时不会有太大变化,不过洪水已经导致了泰国方面的减产,

上游

的供货公司已经开了

吹风会

,预计香米价格会上涨,涨幅估计在一成以上。
Besides, the new fragrant rice from Thailand which should come into market recently is delayed for some time because of the flood. Now the rice suppliers in Shenzhen said that there is no big change to the price since the rice is the stock of the last year. However, the output of fragrant rice has reduced this year and the upstream suppliers hinted that the price of this batch will rise about 10%.
来源:http://www.jhnews.com.cn/jhrb/2011-10/31/content_1912547.htm