全美最长腿女孩腿长1.25米

Quán měi zuì cháng tuǐ nǚhái tuǐ cháng 1.25 mǐ
Language:中文 pin yin English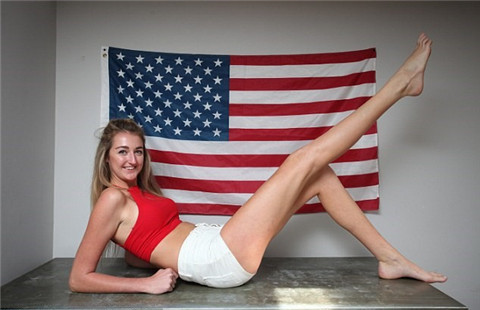 全美最长腿女孩腿长1.25米
Quán měi zuì cháng tuǐ nǚhái tuǐ cháng 1.25 mǐ
一女子曾因身高受欺负,现因其拥有美国最长腿而跻身记录册——她腿长惊人,达49.5英寸(1.25米)。
A woman who was bullied over her height is inching her way into the record books with what she believes are the longest legs in the US - measuring a whopping 49.5 inches.
霍莉•博特身高6英尺5英寸(1.98米),她说,因为身材高挑,在学校会受欺负。不过她补充道,自两年前搬到纽约后,人们喜欢她的身材。  
Holly Burt– who is 6ft 5ins tall – said she was picked on at school for being so tall – but added since moving to New York two years ago, men love her figure.
霍莉说,"在中学的时候,我被大家唤作长腿叔叔、大树和长颈鹿——但我搬到纽约后约会变得顺利很多。我也真的碰到很多迷恋大长腿的人来到我面前。  
Holly said, "Back in middle school I was called daddy long legs, tree or giraffe - but the dating scene has gotten better since I moved to New York. I definitely have seen guys come up to me who have a fetish for long legs."
霍莉认为她的长腿现在绝对算资产,"年龄越大,我发觉人们越懂得欣赏长腿之美。"
Holly believes her legs are definitely an asset now, "being older I feel like people appreciate them more."
Holly was always destined to reach great heights as extreme stature runs in her family.
但霍莉乘标准规格的车子或者购买衣服时,长得高也成了问题。"乘坐飞机、钻进车子都很艰辛。我的前男友开Mini Cooper,我们乘那辆车去的弗罗里达,这估计是我今生最不堪回首的旅程了。"  
But being tall also proves difficult when Holly uses standard sized cars or shops for clothes. She said, "It's very difficult taking planes and getting in cars. My ex-boyfriend had a Mini Cooper and we took that to Florida - it was probably the worst ride of my life."
Holly, pictured with a passer-by, She said, "I love the attention that I get."