"全国第一大考"国考今年遇冷

"Quánguó dì yī dà kǎo "guókǎo jīnnián yùlěng
Language:中文 pin yin English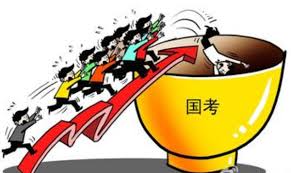 "全国第一大考"国考今年遇冷
"Quánguó dì yī dà kǎo "guókǎo jīnnián yùlěng
今年被认为是毕业生参加国家公务员考试的最佳年份,因为同往年比,今年招考的职位多且报考要求相对降低。不过考试报名的前几天,报名人数还是比去年同期少。由于公务员光环减弱,很多毕业生并不以公务员作为自己的职业选择。
This has been dubbed the best year for recent graduates to take the national civil service examination. There are more vacancies and less eligibility requirements than in the previous years. However, during the first few days of registration, then umber of applicants was still lower than during the same period last year. As civil service jobs lose some of their glamour, graduates have become more reluctant to choose this career path.
2014年起,报考公务员的人数开始下降。2014年《中国青年报》的调查结果显示造成公务员热降温的一大原因是政府反腐。人们常常对公务员有这样的刻板印象:他们"工作清闲",还有机会赚取"灰色收入"。不过智联招聘高级职业发展顾问黄若珊则描绘了不同的景象。"事实上,公务员的工作量是很大的,特别是基层公务员。更糟糕的是,他们的一些'特殊津贴'被取消了,"她说。
Since 2014, the number of people registering for the civil service exam has dropped. A 2014 China Youth Daily research poll shows that one of the reasons is the government's anti-corruption campaign. Public servants face the stereotype that they "work in a leisurely manner" with opportunities to earn "gray income". But Huang Ruoshan, senior career consultant of Zhaopin.com, painted a different picture."The reality is that civil servants' workload is heavy, especially at the grassroots level. Worse still, some 'special benefits' were cut," said Huang.
没有了这些特殊福利,公务员的工资毫无竞争力。中国共产主义青年团北京市委员会开展的一项调查显示北京市年轻公务员的平均收入为4,530每月。而据北京市人力资源与社会保障局的数据,同期其他北京人的月平均工资超过6,463。
Without these special benefits, the salary for a civil service job is not competitive. A survey conducted by the Beijing Municipal Commission of the China Communist Youth League reveals that young civil servants in Beijing earn on average 4,530 yuan each month. The average salary for other Beijingers during the same period was more than 6,463 yuan, according to Beijing Municipal Human Resources and Social Security Bureau.
北京大学政府管理学院副院长白智立还把公务员的负面公众形象归为公务员热降温的原因之一。"人们普遍认为,报考公务员不是一个很理性的选择,做公务员没有权,没有钱。大学生很容易丧失职业信念,"他告诉澎湃新闻记者。 
Bai Zhili, the associate dean for Peking University's School of Government, also attributes the decline of civil servants to the job's negative public image."When a lot of people say being a civil servant is not a sensible choice, since it offers no money and no future, graduates can easily lose faith in their career path," he told the paper.cn.
确实,大多数公务员面临着严峻的职业前景,基本上没有升职空间。依据中国法律,基层公务员升职最少要八年的时间。尽管当公务员有诸多弊端,海南大学大四学生郑芳依旧坚持参加今年的公务员考试。"对我而言,公务员只是一份普通的工作,正如它现在这样。公务员不应该被给予特殊利益," 他说。  
It's true that most civil servants face a tough career path, with few chances for promotion. According to Chinese law, it takes at least eight years for a grassroots-level civil servant to get promoted. Despite all the disadvantages of being a civil servant, Zheng Fang, a senior student at Hainan University, still chose to take this year's civil service exam. "For me, a civil service job should be an ordinary career, just as it is now. It should not be bestowed special benefits," he said.
他的想法也得到了其他年轻人的支持。《中国青年报》的调查表明:53.6%的年轻人认为成为公务员的主要意义是更好地服务社会。不过这并不意味着公务员工作对员工毫无用处。郑芳看中公务员的另一点就是它提供的平台。通过为党中央及其行政机关或其他附属机构工作,员工能更好地了解这个社会。"你会更理解政府的政策以及政府是如何运作的。除此之外,公务员工作能训练我的沟通、管理和组织协调能力。这些技能在其他工作岗位上也很有用,"他说。
His idea is echoed by other young people too. A China Youth Daily research poll shows that 53.6percent of young people think the main purpose of civil servants is to better serve the public. But that doesn't mean civil service jobs do not help employees at all. What Zhang values about working as a civil servant is also the platform it offers. Employees learn to better understand society, by working for the central Party and its administrative organs or their affiliated organizations."You get to know the policies and how the government works. Besides, this job will allow me to nurture my communication, management and coordination skills. These skills are useful in other jobs too," he said.
公务员(gōngwùyuán)civil servant
副院长 (fùyuànzhǎng)associate dean