沈阳遭遇历史最严重雾霾污染

Shěnyáng zāoyù lìshǐ zuì yánzhòng wùmái wūrǎn
Language:中文 pin yin English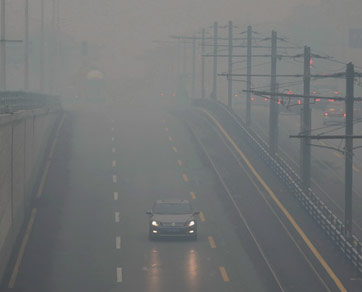 沈阳遭遇历史最严重雾霾污染
Shěnyáng zāoyù lìshǐ zuì yánzhòng wùmái wūrǎn
周日,沈阳的污染数据比世界卫生组织推荐的安全数据高出了近50倍。国内官方媒体职责地方政府管理不当。
On Sunday pollution readings were about 50 times higher than that considered safe by the World Health Organization. State media have blamed the local government for the thick smog.
对于以煤矿为主能源的东北重工业基地,污染是个永恒的问题。中国官方媒体人民日报称,周日沈阳的可吸入颗粒物,即PM2,5,达到了1400毫克每立方米。而世界卫生组织标准为每日平均最多25毫克每平方米。
Pollution is a perennial problem in China's northeast, home to heavy industries including coal mining. In some parts of Shenyang, Sunday's readings of tiny particulate which can get into the lungs, known as PM 2.5, exceeded 1,400 mg per cubic meter, according to state media People's Daily. The WHO recommends a maximum 24-hour average of 25 mg per cubic meter.
随着冬天到来,城市了开动了以烧煤为主的供暖系统,这成为了空气质量的恶化的主要原因。地方媒体报道,政府延迟制定紧急措施,如警告公众和工地停工令等。
The deterioration in air quality came as the city's coal-powered heating system fired up for the winter. Local media reported delays in the enacting of emergency measures, such as warnings to the public and issuance of stop-work orders to work sites.
环球时报的一篇社论职责地方政府在解决污染问题上缺乏经验,沟通不及时,并且能源消耗和工业结构不合理。但是它同时也提倡公众理解,并称,总体来说,地方政府在处理这些问题上还"正在学习"。
A Global Times editorial blamed local officials for inexperience in tackling pollution and "inconsistent channels of communication". It also blamed "unreasonable modes of energy consumption and [the] industrial structure". But it also called for public understanding saying that in general, local governments "are still on a learning curve".
在微博平台上,随着污染的持续,沈阳居民不断发出自己带着口罩处于一片雾霾之中的照片,并将标签定为#沈阳雾霾#。"我不能这样生活下去,#沈阳雾霾# 如果一直持续下去,每个人都很有可能得癌症。"一位微博用户在周二抱怨到。很多微博用户分享了建筑物消失在雾霾中的,霓虹灯"漂浮"在空中的可怕的图片。
On the microblogging platform Weibo, Shenyang residents have continued to post pictures of themselves wearing masks and of the city plunged in a hazy gloom, using the hashtag #Shenyang Haze#, as the pollution persisted. "I can't go on living like this, #Shenyang Haze#, if this goes on any longer everyone will probably get cancer," complained a user on Tuesday. Multiple Weibo users shared ghostly images of neon signs "floating" in the air as buildings were rendered nearly invisible by the smog.
今年早期,中国环境部宣布,2014年,在中国的74个大城市中,仅有8个达到了政府规定的空气质量标准。空气污染最严重的城市大多数都位于中国东北部。中国正在尝试减少污染,但是仍然依靠煤作为主要工业能源。
Earlier this year China's environment ministry announced that only eight out of the country's 74 biggest cities had passed the government's basic air quality standards in 2014. Most of the cities found to have the worst air were in the northeast of the country. China is attempting to cut pollution but still relies heavily on coal for its energy and industrial needs.
永恒的(yǒnɡhénɡ de)perennial
霓虹灯 (níhónɡdēnɡ)neon light