中国"双11"网购交易额912亿元创新纪录

Zhōngguó "shuāng 11"wǎnggòu jiāoyì'é 912 yì yuán chuàng xīn jìlù
Language:中文 pin yin English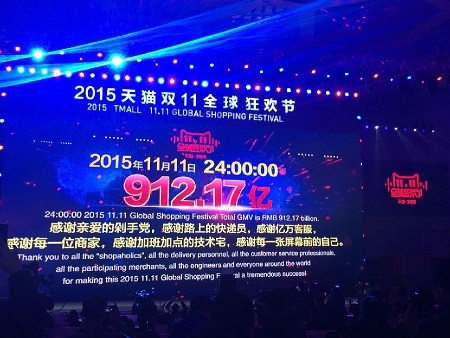 中国"双11"网购交易额912亿元创新纪录
Zhōngguó "shuāng 11"wǎnggòu jiāoyì'é 912 yì yuán chuàng xīn jìlù
中国电子商务业在光棍节创造了又一个令人惊叹的销售记录,世界最大的网购平台阿里巴巴表示,周三当天交易额达到了912.2亿元(143.3亿美元)。
China's e-commerce industry set another jaw-dropping sales record on Singles Day, the world's biggest online shopping event, with Alibaba reporting that about 91.22 billion yuan ($14.33 billion) was spent in 24 hours on Wednesday.
这家占中国零售总额8%的电子商务巨头称,周三一天的总销售额远远超过去了去年的571亿元。而总部在江苏南京的O2O零售商苏宁集团也表示,光棍节当天的订单量相比平日增加了两倍。苏宁电器副董事长孙为民说道,光棍节刚开始的11个小时,网购大军已经从美国订购了37000个保健品。据苏宁集团透露,下午6时消费者已经订购了220000部小米智能手机,380000盒杜蕾斯避孕套以及几乎相同数量的移动电源充电器。
The e-commerce giant, which accounts for 8 percent of China's total retail volume, said its sales total on Wednesday far exceeded the 57.1 billion yuan in transactions it generated last year. Suning Commerce Group, an online-to-offline retailing company with headquarters in Nanjing, Jiangsu province, also said its number of orders tripled on Singles Day. The army of Internet shoppers had ordered 37,000 health products from the United States within 11 hours of the start of Singles Day, said Sun Weimin, vice-chairman of Suning. By 6 pm, customers also had ordered 220,000 Xiaomi smartphones, 380,000 boxes of Durex condoms and nearly the same number of mobile power chargers, according to a statement from the Suning group.
阿里巴巴的执行主席马云周三表示,光棍节仅仅体现了中国国内需求巨大潜力的一小部分。成千上万的企业受益于光棍节,不只是互联网公司,还有生产优质产品的其他公司。"中国中产阶级人口达3亿。我们相信未来15年内将会达到5亿,这为高质量产品带来巨大需求并促进经济增长,"马云说道。
Jack Ma, executive chairman of Alibaba, said on Wednesday that Singles Day represents only a small part of the huge potential for domestic demand in China. Hundreds of thousands of businesses benefit from Singles Day-not only Internet companies, but also other companies that produce quality products. "China has a middle-class population of 300 million. We believe there will be 500 million within the next 15 years, which would bring huge demand for high-quality products, therefore boosting economic growth," he said.
疯狂的网购使中国成千上万的商场与百货商店不寒而栗。11月4日,商务部新闻发言人沈丹阳表示,蓬勃发展的网购行业使零售商店面临越来越大的压力,一些商店关闭或者取消了租约。
The frenzied online buying has sent shivers through China's thousands of malls and department stores. On Nov 4, Commerce Ministry spokesman Shen Danyang said retail stores faced increasing pressure from the booming online shopping sector, with some stores closing or canceling their leases.
网购节是由阿里巴巴在2009年发起的。阿里巴巴不是光棍节唯一一个成功刺激国内消费的电子商务企业。阿里巴巴在中国最大的电子商务竞争对手京东,周三网上购物节午夜钟声敲响开始的12小时之内,就打破了去年全天的销售记录。
The online shopping festival was initiated by Alibaba in 2009. Alibaba is not the only e-commerce player to successfully stimulate domestic consumption on Singles Day. JD.com, Alibaba's biggest e-commerce rival in China, outperformed its sales record from last year on Wednesday within 12 hours of the online shopping festival's kickoff at the stroke of midnight.
令人惊叹的(lìnɡrén jīnɡtàn de)jaw-dropping
零售总额(línɡshòu zǒnɡ'é)retail volume
国内需求(ɡuónèi xūqiú)domestic demand
疯狂的(fēnɡkuánɡ de) frenzied