巴黎发生多起恐怖袭击

Bālí fāshēng duō qǐ kǒngbù xíjī
Language:中文 pin yin English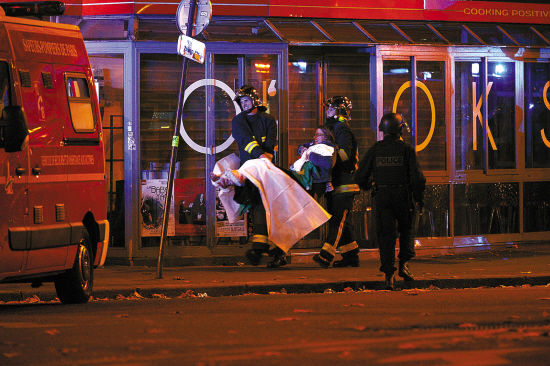 巴黎发生多起恐怖袭击
Bālí fāshēng duō qǐ kǒngbù xíjī
据今日报道,至少有一百人已经死在巴黎中心的巴塔克兰剧院。持枪袭击者在被闯入大楼的警察控制之前,在这里劫持了许多人质。其他罹难者死于发生在法兰西体育场和餐厅附近的袭击,一些报道指出这是一场自杀式爆炸袭击。
At least 100 people are reported to have died at the Bataclan concert hall in central Paris. Gunmen took many hostages there before being overpowered when police stormed the building. Others died in attacks near the Stade de France, with some reports suggesting a suicide blast, and at restaurants.
巴黎居民被要求呆在室内,军方人员也已经被安排在了城市各处。
Paris residents have been asked to stay indoors and military personnel are being deployed across the city.
这场极端的袭击表现出是以巴塔克兰音乐厅为目标的。BBC的记者说几十辆救护车已经到达了现场,这表示里面有许多受害者。
The deadliest attack appears to have targeted the Bataclan concert hall. The BBC's Hugh Schofield says scores of ambulances have arrived at the scene, suggesting many victims inside.
还有袭击发生在第十区的两家餐厅,在这里BBC的记者看到了诗人躺在路上,可能是死了或者受了重伤。
Other attacks hit neighboring Le Petit Cambodge and Le Carillon restaurants in the 10th district where a BBC reporter could see 10 people lying on the road, either dead or seriously injured.
一位目击者告诉解放报,他在第十一区的咖啡厅听到了超过100轮的枪击。在巴黎中心的Halles购物中心也能听到枪声。
And an eyewitness told Liberation newspaper that he had heard more than 100 rounds being fired at La Belle Equipe cafe in the 11th district. Gunfire was also heard at Les Halles shopping centre.
美国总统奥巴马说这是"一场残暴的针对无辜平民的恐怖袭击"。
US President Barack Obama spoke of "an outrageous attempt to terrorize innocent civilians".
英国首相大卫卡梅伦说他对此感到十分震惊并且保证会尽其所能帮助法国。
UK PM David Cameron said he was shocked and pledged to do "whatever we can to help".
残暴的 (cánbào de)outrageous