中国新版百元钞发行10月外贷再创新高

Zhōngguó xīnbǎn bǎi yuán chāo fāxínɡ 10 yuè wài dài zài chuàng xīn gāo
Language:中文 pin yin English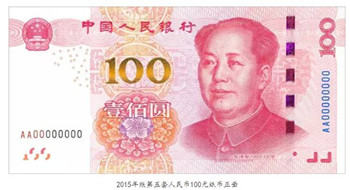 中国新版百元钞发行10月外贷再创新高
Zhōngguó xīnbǎn bǎi yuán chāo fāxínɡ 10 yuè wài dài zài chuàng xīn gāo
本周四官方数据显示,中国新版人民币的外借贷款在十月创下5140亿元(合计806亿美元左右),比去年同期增长了480亿。
China's new yuan-denominated lending in October hit 514 billion yuan (around 80.6 billion US dollars), up 48 billion yuan from a year earlier, official data showed on Thursday.
M2,广义货币,是反映货币供应量的一个重要指标,涵盖流通中的现金和所有存款,同比增长13.5%,至十月底达136万亿元,中国人民银行在其官网发表声明。狭义货币供应量(M1),涵盖流通中的现金和活期存款,同比增长14%,在上个月末达到37.6万亿元。
M2, a broad measure of money supply that covers cash in circulation and all deposits, increased 13.5 percent year on year to 136 trillion yuan at the end of October, the People's Bank of China (PBOC) said in a statement on its website. The narrow measure of money supply (M1), which covers cash in circulation plus demand deposits, rose 14 percent year on year to 37.6 trillion yuan at the end of last month, the statement said.
然而,汇丰银行分析师屈宏斌表示,购房贷款和企业贷款下降显著,主要原因是国内需求疲软和银行间风险厌恶的心态。并表示,为防止通货紧缩的趋势,更多的宽松政策是必要的。
However, a significant decrease was seen in loans to home buyers and enterprises, said HSBC analyst Qu Hongbin, who attributed that mainly to sluggish domestic demand and a rising risk aversion mindset among banks. More easing policies are necessary to protect against the increasing deflation risk, Qu said.
据中国人民银行,今年10月,社会融资、非金融企业和家庭持有的基金增长了4767亿元,与去年同期相比降低了1770亿元。为进一步降低融资成本,中国中央银行今年已五次降低存款准备金率(RRR)和存款利率。最新的举措是在十月下旬实施,金融机构存款准备金率下调0.5个百分点,一年期贷款和存款基准利率分别上调0.25个百分点,至4.35%和1.5%,以确保银行体系有充裕的流动资金。
Social financing, funds that non-financial firms and households get from the financial system, increased by 476.7 billion yuan in October, down 177 billion yuan from a year earlier, according to the PBOC statement. In a bid to further reduce the cost of financing, China's central bank has cut the reserve requirement ratio (RRR) and interest rates five times this year. The latest move came in late October when RRR for financial institutions was slashed by 0.5 percentage points and benchmark interest rates for one-year loans and deposits were cut by 0.25 percentage points to 4.35 percent and 1.5 percent respectively, to ensure reasonably adequate liquidity in the banking system.
随着经济的持续放缓和全球金融市场 ,这些举措旨在重整经济结构及保持经济平稳发展的良好金融环境,中国人民银行在利率公布后的另一声明中表示。央行表示,将继续根据货币政策进行微调,并运用各种手段以提供充足的流动性,保证市场稳定。中国经济2015年第三季度的增长率扩大了6.9个百分点,这是自2009年以来第一次季度增长率低于7%。居民消费价格指数(CPI),通货膨胀的主要指标,10月份同比上涨1.3%,与九月的1.6%和八月的2%相比,增幅有所放缓。月居民消费价格微跌0.3%。
As the economy continues to slow and global financial markets fluctuate, these moves aim to establish a sound financial environment for restructuring and steady growth of the economy, the PBOC said in a separate statement after the interest rate announcement. It would continue with the fine tuning of monetary policies, and implement various tools to provide adequate liquidity and ensure market stability, the PBOC said. China's economy expanded 6.9 percent in the third quarter of 2015, the first time the quarterly growth rate has dropped below 7 percent since the second quarter of 2009. The consumer price index (CPI), the main gauge of inflation, grew 1.3 percent year on year in October, slowed from the 1.6-percent gain in September and 2 percent in August. On a monthly basis, consumer prices edged down 0.3 percent.
与此同时,中国的生产者价格指数(PPI),衡量总体通货膨胀,上个月同比下降5.9%,指向市场需求的持续疲软。
Meanwhile, China's producer price index (PPI), which measures wholesale inflation, plunged 5.9 percent year on year last month, pointing to continuing weak market demand.
官方数据(ɡuānfānɡ shùjù)official data
基准利率(jīzhǔn lìlǜ)benchmark rate