全英最孤独小学生:整所学校只有他一个人!

Quán yīng zuì gūdú xiǎoxuéshēng :zhěng suǒ xuéxiào zhī yǒu tā yī gè rén !
Language:中文 pin yin English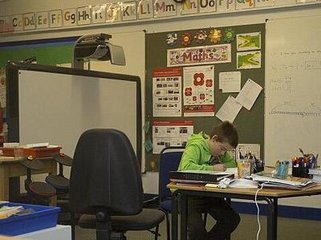 全英最孤独小学生:整所学校只有他一个人!
Quán yīng zuì gūdú xiǎoxuéshēng :zhěng suǒ xuéxiào zhī yǒu tā yī gè rén !
他永远是早上第一个到的学校,晚上最晚走的一个。老师一直都点名叫他回答问题,而且他也毫无例外一直是班上第一名。
He's always the first to arrive through the school gates in the morning –and the last to leave. He's always picked to answer the teacher's questions and he's always –without fail –top of the form.
因为字面意义上,整个班级都只有阿伦·安德森一个人,整个学校也只有他一个人。这所位于可能是全英最偏远地区小学校,只有他这么一个10岁小学生。阿伦(不管他喜不喜欢)一直都是老师关注的焦点。  
For Aron Anderson is, literally, in a class of his own – in fact, he's the only pupil in his school. The ten-year-old is the sole student at what is arguably the most remote primary in Britain. Aron (whether he likes it or not) gets the undivided attention of his teacher, all the time.
上学时他有两间教室,一间美工室,一间音乐教室还有一座图书馆,全是他自己的。在课间,他掌控着整个操场,滑梯、秋千和篮球场都是他一个人的。当然,有一个问题那就是:尽管他超爱足球,但没有其他小朋友跟他一起踢。阿伦这一特殊的情况也让他成为了接受着英国最昂贵教育的学生。  
During the school day he has two classrooms, a craft room, music room and a library all to himself. And at break, he has the run of the entire playground with its slides, swings and basketball court. One problem, of course, is that although he loves football, there are no other pupils for him to have a kick-about with. Aron's unique position also makes him one of the most expensively educated children in the UK.
阿伦的父亲伊万,是一个43岁的渔民,有时要一连好几天在海上作业。他46岁的母亲丹尼斯在岛上的商店里工作,兼家长教师协会会长。她也是一个训练有素的消防员。  
Aron's father Ewan, 43, is a fisherman who spends days at a time at sea. His mother Denise, 46, helps in the island shop and heads the parent-teacher council. She is also a trained firefighter.
这座岛上的一所高中和一个鲑鱼养殖场已经关闭了,使得很多人家都搬走了。阿伦母亲丹尼斯说:"我只希望我们可以回到十年前。那时有很多小孩,而且年龄大一点的小孩会帮助年龄小的孩子教作业。如果有更多的人家在这就好了。"  
The island has seen the closure of its secondary school and salmon farm – prompting many families to leave. Mum Denise said, "I just wish we could go back ten years. There were lots of children – and the older children used to help the younger ones at school. It would be lovely to have some more families here."
篮球场(lánqiúchǎnɡ)basketball court