"致癌门"两周后,香肠培根销售额暴跌300万英镑

"zhì ái mén "liǎng zhōu hòu ,xiāngcháng péigēn xiāoshòu'é bào diē 300wàn yīng bàng
Language:中文 pin yin English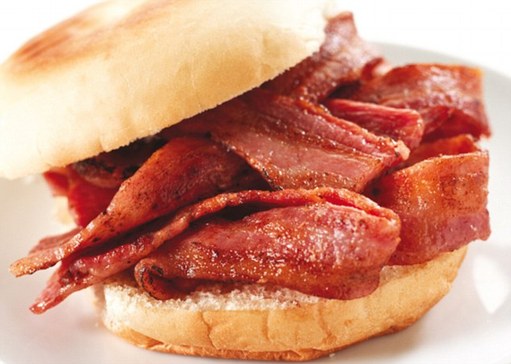 "致癌门"两周后,香肠培根销售额暴跌300万英镑
"zhì ái mén "liǎng zhōu hòu ,xiāngcháng péigēn xiāoshòu'é bào diē 300wàn yīng bàng
作为英国人喜爱的美食,香肠和培根已经在该国食谱中盘踞了几个世纪之久,然而在世界卫生组织发出致癌警告后,这两种食物的受欢迎度暴跌。
After taking pride of place on British dinner tables for centuries, the popularity of sausages and bacon has plunged following a cancer warning.
世界卫生组织在报告中指出,加工肉类的致癌风险与香烟一样高,之后,英国大型超市香肠和培根的销售额两周内暴跌300万英镑。
Sales of bacon and sausages at major supermarkets fell by £3 million in the two weeks after a World Health Organisation report said processed meat had the same cancer-causing risk as cigarettes.
IRI(市场研究公司)的商业零售分析师表示,世界卫生组织上月发布报告称加工肉类致癌,当周,预包装培根的销售额下降了17%,接下来一周的销量继续暴跌,幅度达16.5%。
Commercial analysts IRI Retail Advantage said sales for pre-packed bacon dropped by 17 per cent in the week after the WHO published a report last month concluding that processed meat was a carcinogen. The sales continued to fall sharply the following week and were down by 16.5 per cent.
10月最后一周,预包装香肠的销量下跌了15.6%,在11月首周,则下跌了13.9%。IRI告诉英国《杂货》杂志,此次恐癌风潮导致相关食品销售额暴跌300万英镑。
Pre-packed sausage sales slumped 15.6 per cent in the last week in October and 13.9 per cent in the first week of November. IRI told The Grocer magazine that this drop 'due to the scare' was equivalent to £3million.
香肠生产商很愤怒。他们指出,新鲜的英国香肠不属于世界卫生组织所说的加工肉类。北爱尔兰香肠生产商"芬恩"威胁要采取法律行动向世界卫生组织索赔。
Sausage producers reacted furiously, pointing out that fresh British sausages would not be classified as processed meat according to the WHO's own classifications. Northern Irish sausage producer Finnebrogue threatened to take legal action against the WHO over the report's claims.
不过,农业部和园艺发展局称培根和香肠销售额已在"回暖",并补充道:"大部分地区的销售额已经趋于正常,这是令人感到宽慰的。"
But the Agriculture and Horticulture Development Board said bacon and sausage manufacturers were "already seeing a recovery in sales", adding, "It is reassuring to know sales are back to normal in most areas."
加工肉类(jiāɡōnɡ ròulèi)processed meat
零售分析师(línɡshòu fēnxīshī)commercial analyst